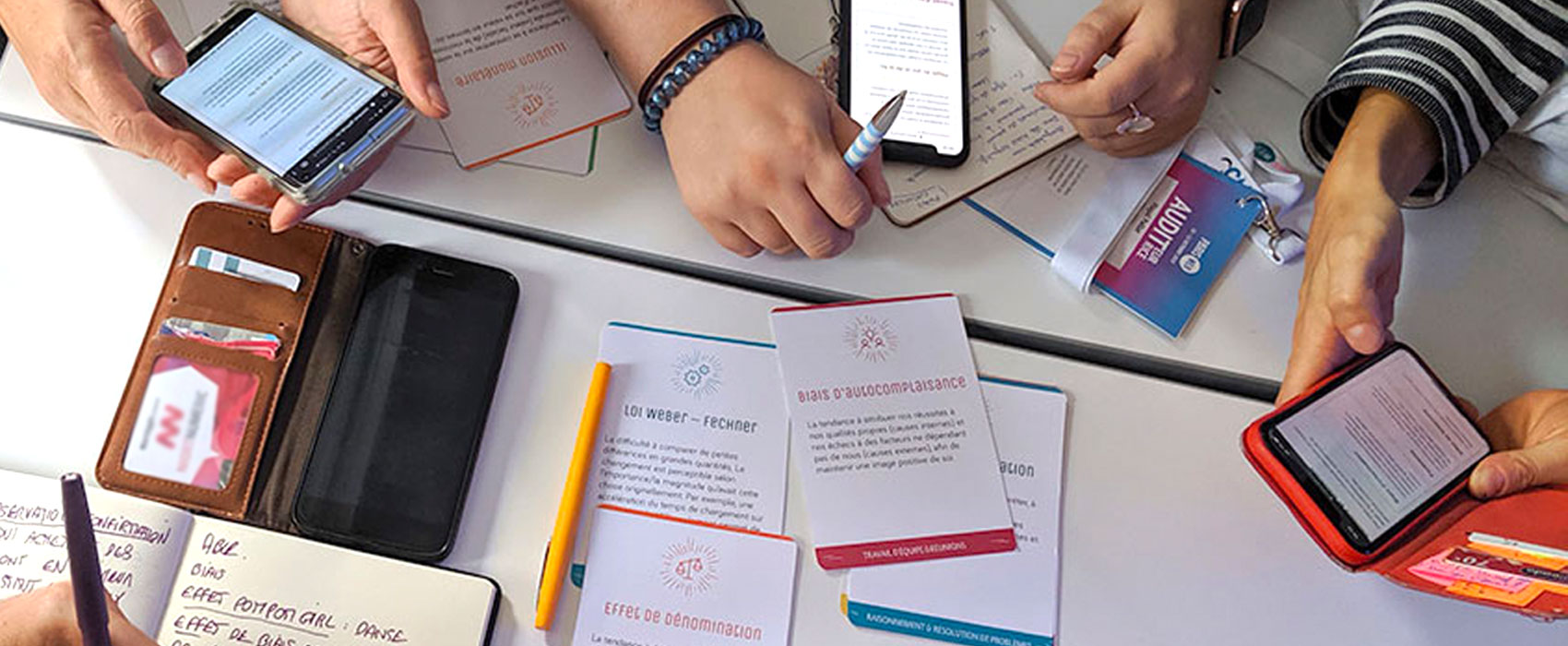 52 UX Cards to Discover Cognitive Biases
A few weeks ago, Laurence Vagner (with a V) and I gave a workshop in Paris Web. The theme was "cognitive biases". We had already gave this workshop in English for our UX in Lux community in Luxembourg. For the French version of the workshop, we created a 52 UX cards deck to help people discover and understand different cognitive biases. This card deck is now available in English as well.
Cognitive biases are psychological thought mechanisms and tendencies that cause the human brain to draw incorrect conclusions. For better or worse, you can use them in many different ways to influence user behaviour in your products and services. These biases will also impact collaboration between team members and during meetings or might influencer your user research. Whether you are creating the user experience of an interfaces or purchasing something online, it's interesting to be aware of these biases.
** Si vous souhaitez une version française des cartes elle est disponible ici **
A deck of 52 Cognitive Bias UX Cards
The list of cognitive biases is long and might look downright frightening for many people. To make this easier to digest, Laurence and I selected 52 out of the list and organized them into 5 categories:
Decision-making & behaviour
Thinking & problem solving
Memories & recalling
Interview & user testing
Team work, social & meetings
The icons for those categories come from Streamline, in case you where wondering 🙂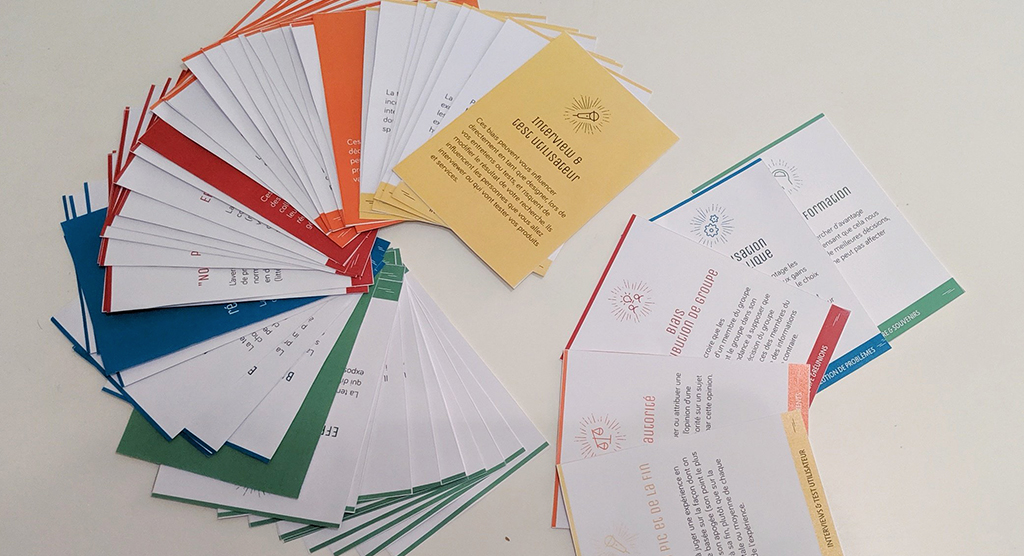 These cards were created  for teaching and learning purposes. They help team members become aware of their own biases and the different biases they can induce, whether on purpose or not, to users.  They can also be used as a cheat sheet and as "reminder cards" while designing. You can use them in small workshops with your coworkers to raise awareness among your team.
We have decided to publish the cards  under CC BY-NC-SA 4.0 license. You can print them directly on both sides. Do not print the first 4 pages unless you REALLY like our little heads illustrations.
English version
You can get the English version of the cards here:
Download the 52 cognitive bias UX cards
Spanish Cards
We also now have a Spanish version of the cards. Spanish translation of the cards was created by Helena Feliu from Duit Studio
Download Spanish version of the cards
An online list to help you
If you do not want the paper version, we have also prepared an online list. You can even add it as shortcut on your phone, yeahy. (I might eventually turn this into a PWA and have it work offline)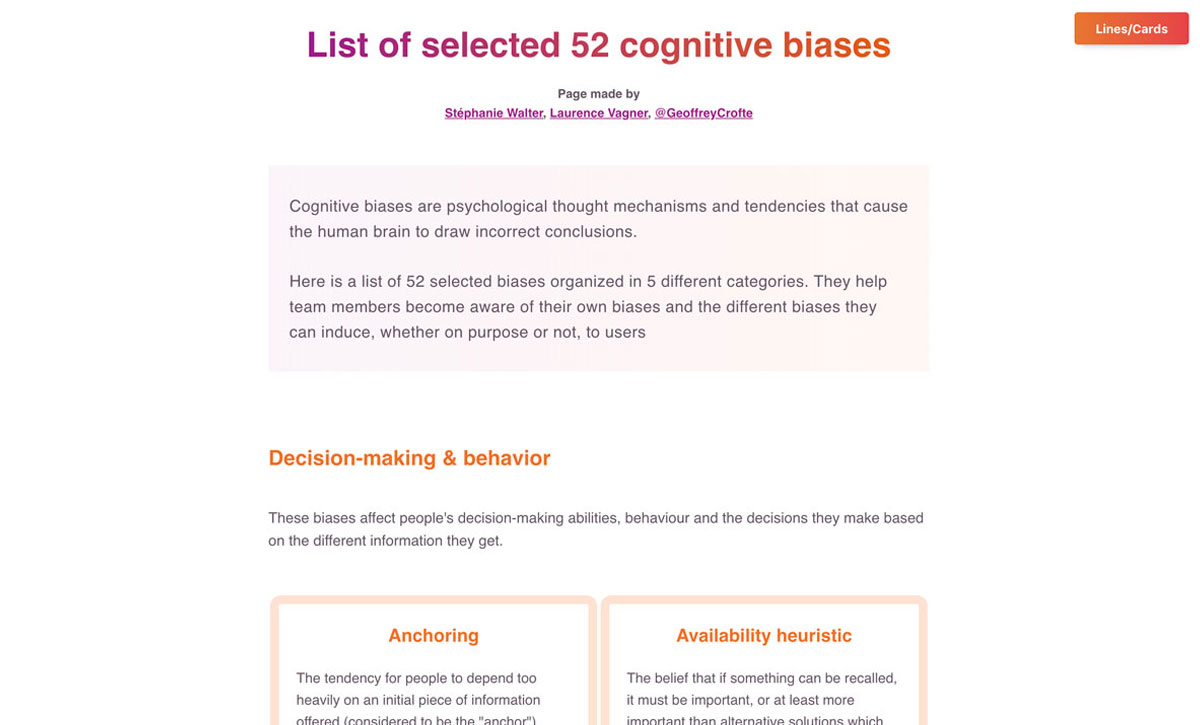 Online list of 52 selected biases
For more biases, you can visit the full list of biases extracted from Wikipedia. Kudos to Geoffrey for the code of those pages.
The Workshop
You will find the workshop process in the slides above and a short explanation on page 3 of the PDF. You can consult the presentation support of our workshop (the English version in Luxembourg, not the French one) here:
Some pictures of the workshop
Here are some pictures of our cards and participants working very hard to sell us a unicorn with as much bias as possible.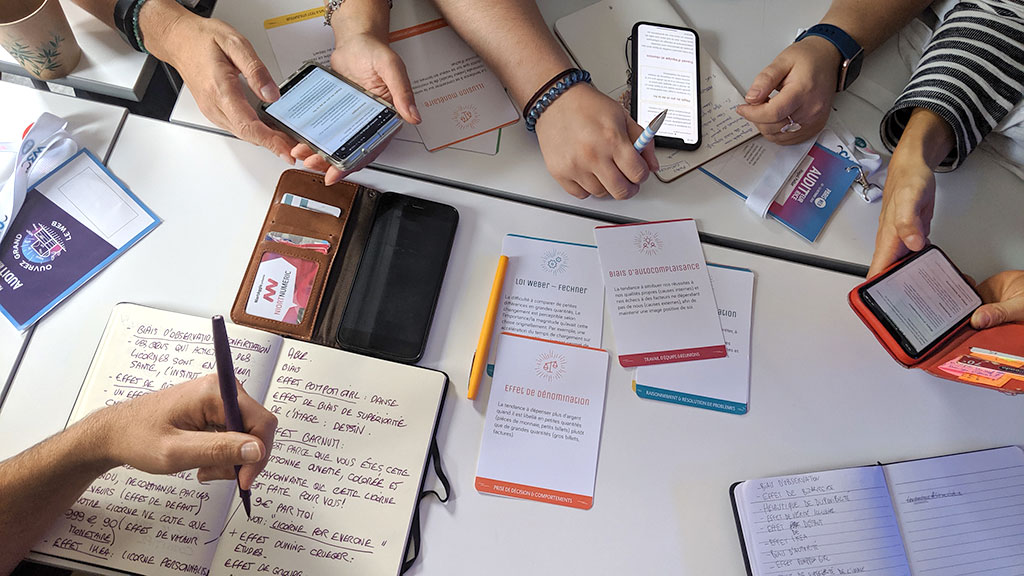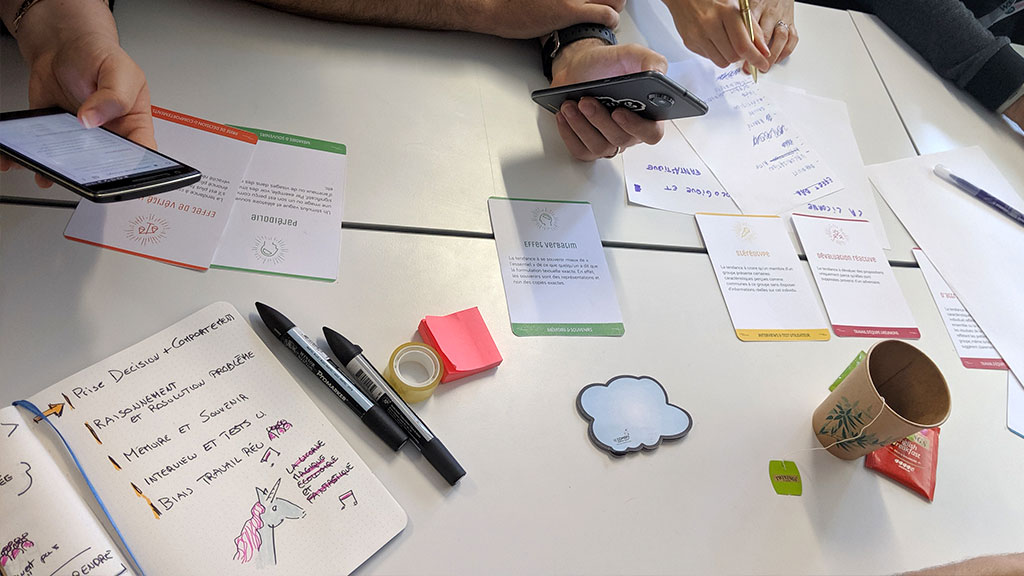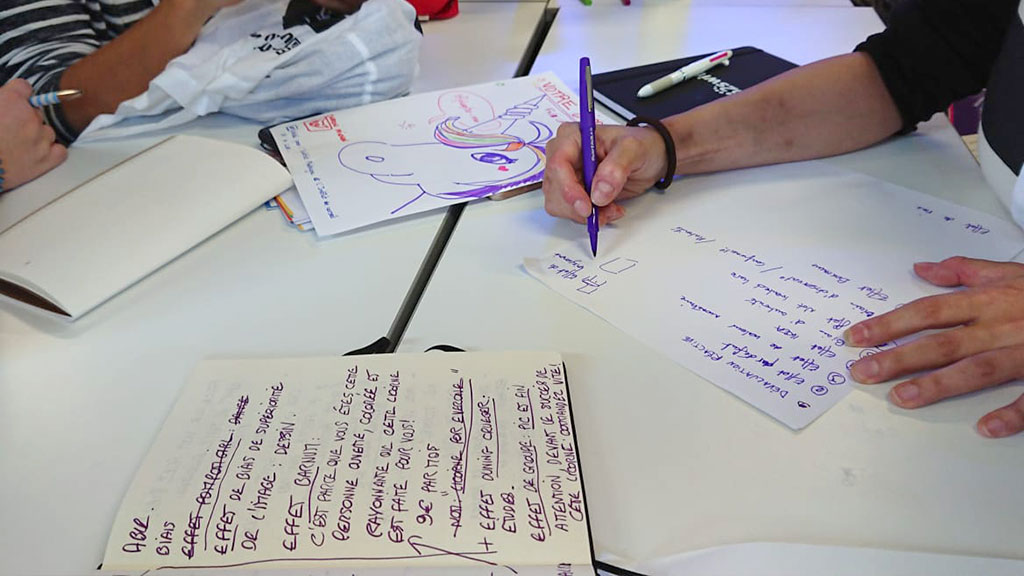 More cards, inspiration and ressources
If you want to go further here a few ressources:
Create your own workshop
The cards are open source and the protocol for the workshop is in the cards, so don't hesitate to replicate the workshop for your company / local events and send us some pictures.
Exploring cognitive biases can be fun, especially when you have cards for it– and they are beautiful and colorful! 😍Inspired by @WalterStephanie's and @hellgy's workshop we decided to organize our own (and the team loved it). Check the cards here: https://t.co/9BrIr3POV4 pic.twitter.com/6riRyM88iT

— Kentico Design (@KenticoDesign) December 13, 2019