Cette illustration est basée sur la citation de Josh Clark (inspirée de Bruce Lee) à BDconf « The Seven Deadly Myths of Mobile » : You put water into a cup it becomes the cup. You put water into a bottle it becomes the bottle. You put it in a teapot, it becomes the teapot.
Elle explique le fonctionnement d'un site responsive dont le contenu s'adapter à n'importe quel type d'appareil. Elle est également utilisée sur Wikipedia pour illustrer l'article sur le responsive.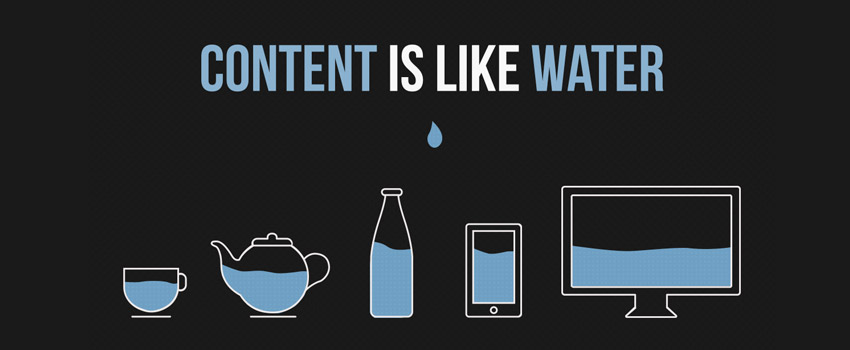 Vous pouvez récupérer le fichiers .PSD (avec la police vectorisée) et des JPG en plusieurs tailles d'image.
Téléchargement - Content is like Water
L'illustration est sous licence Creativ Commons Attribution – Partage dans les Mêmes Conditions 3.0 France (CC BY-SA 3.0 FR) , vous pouvez donc l'utiliser, même à des fins commerciales tant que vous respectez les conditions de la licence (à savoir encore une fois mention de mon nom comme auteur et partager dans les mêmes conditions).
Partager la publication "Téléchargement de l'illustration « Content is like Water »"
Vous souhaitez des conseils en ergonomie ou en expérience utilisateur ? Un design de site, d'interface ou d'application mobile ? Envie de travailler ensemble ou de m'inviter à donner une conférence ? Consultez mes réalisations ou contactez moi directement.