Buy some Stickers!
I'm creating and printing cute stickers. If you are interested in some, I've created this page to list them all. I don't have an official shop for now. Maybe one day, but for now, this is the easiest way.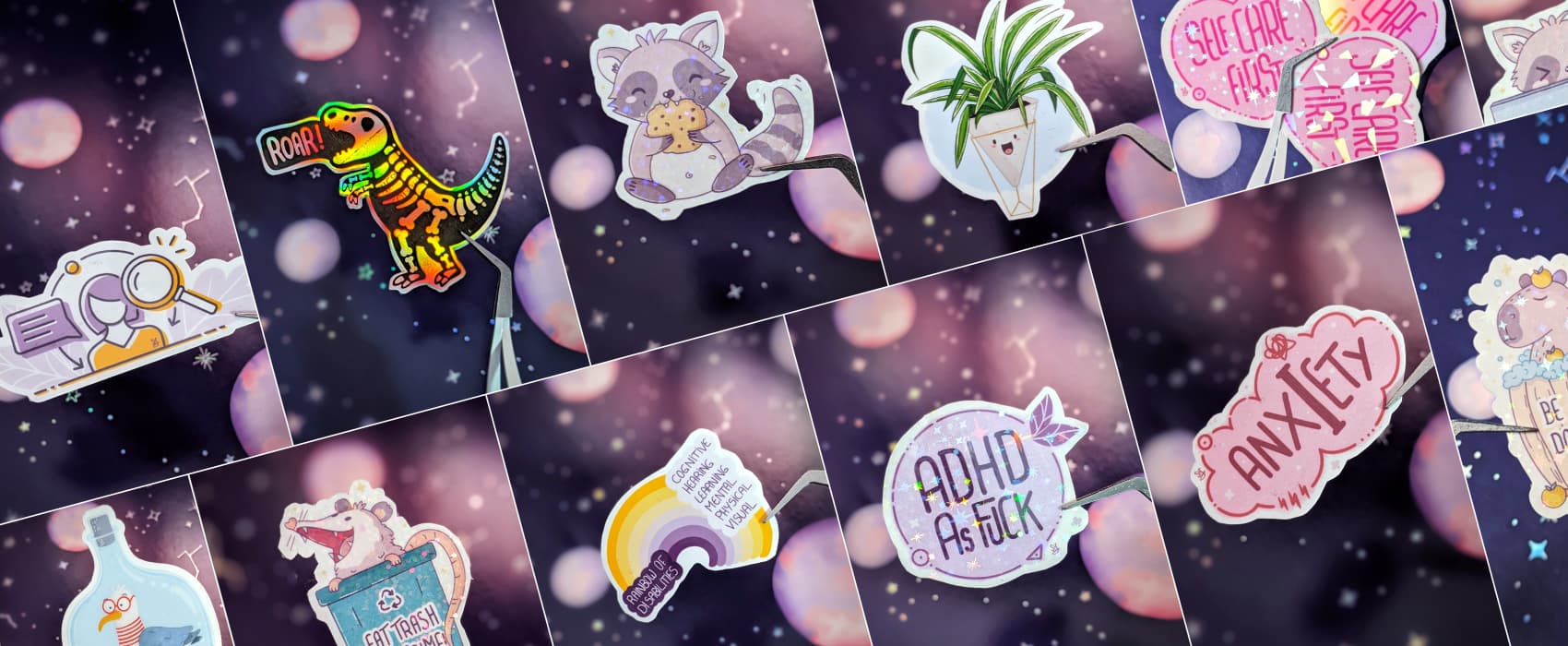 How to order
Here's how to proceed to order some stickers
Take a look at the list above. List which ones you want (what special paper glitter option if available) and number for each.
I don't have big quantities, so I limit to 3 stickers for each type per order. But, I can custom print a special order sheet for you, if you take more than 15 stickers of the same type (and paper type).
Once you know what you would like, contact me here or a in a DM on social media.
I will send you back an estimate, including shipping fees.
Once it's accepted, I will send you a PayPal link for payment (including shipping fees)
I then need : Name on your mailbox, address formatted (in the format of your country). If it's outside of Europe, I might need a phone number / email for customs (normally it goes into regular mail, but the post is sometimes picky).
Details about the stickers
All the stickers are waterproof. They are laminated with some protective overlay. Some have glossy, matte and some have a specific one with effects. See list of effects.
They are also hand made, aka, printed at home. It means that color might vary depending on paper used. Note that the effect sheet can also make the color vary a little.
Most of them are about 4cm to 5cm. Either width or height depending on if they are vertical or horizontal stickers.
Prices
Unless mentioned otherwise, the prices are:
4EUR per stickers for matte and glossy ones
5EUR per sticker for effect ones (see list of effects).
If you want to order a bigger quantity, let me know and I make a special discount.
Cute beasts stickers
All of those have glitter dots effect (see list of effects). No option without the gloss for now, but let me know if you want some, and I might print them (otherwise you can get the full beast sheet).
Cookies eating raccoon – B1 (5EUR)
Size: 4.6 x 4.3 cm
Computer raccoon – B2 (5EUR)
Size: 5.45 x 4.9cm
Eat Trash Do Crime Opossum – B3 (5EUR)
Size: 4.9 x 5.5 cm
Be Cute Do Crime Capibara – B4 (5EUR)
Size: 3.5 x 5.4cm
The "multiple beasts" 5 stickers sheet: 6 EUR per sheet
A sheet of 5 waterproof stickers. Matte overlay. (not printed at home)
Details of each sticker:

Dinosaur holographic first print – 5 EUR per Sticker
Both version are holographic with glossy protective overlay. D-a has the dino printed in black and the skleton is holo, D-b is the other way, the dino is holo and the skeleton is printed
Size: 7.10 x 5.5cm
WARNING: those are the MVP and some have some laser printer traces (due to another sheet that bled on them). It kind of makes them unique. I might reprint some without the traces eventually, but I don't have the paper anymore for now.
Mental health stickers
All of those are about 4cm – 5cm, either in height or width depending if they are horizontal or vertical. Tell me which number(s) you want 🙂
See list of effects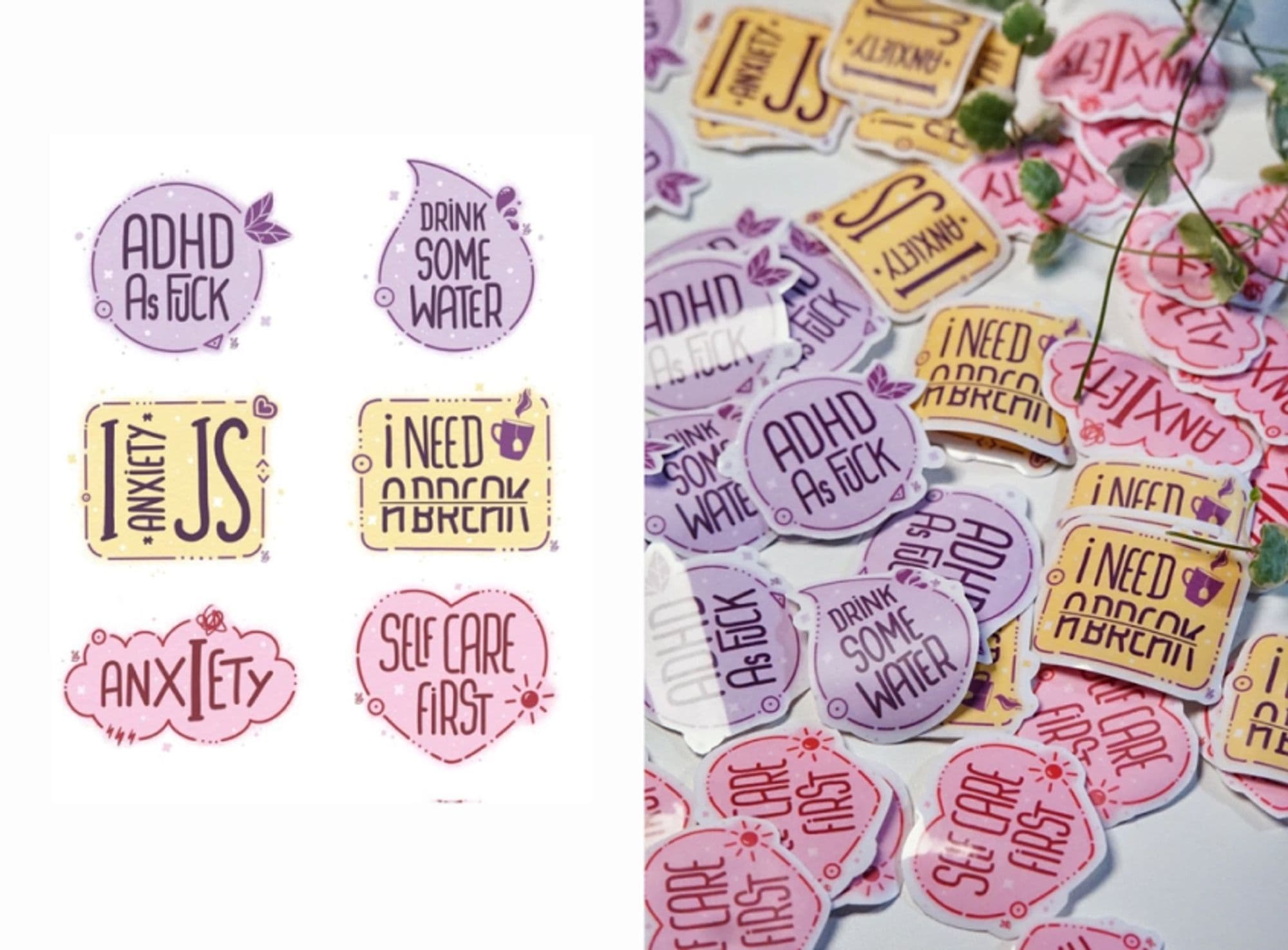 ADHD As Fuck – M1
Size: 4.5 x 4cm
Drink Some Water – M2
Size: 3.7 x 4.2 cm
I anxiety JS (M3), I need a break (M4), Anxiety (M5),
All of those are regular glossy or matte finish
Size: Anxiety 4 x 3.5cm , I need a break : 4.2 x 3.6cm, anxiety 5 x 3.2cm
Selfcare first (M6)
Specs: 4.5 x 4 cm
Selfcare first "pink" limited edition (M6 pink)
I'm not going to lie: this is another printing mistake. But, I love it. My cartridge didn't have any blue anymore, so I have a limited edition of those, in a pink I will never be able to reproduce.
Spider Plant stickers
Size: 4.5 x 5cm
Monstera Plant stickers
Size: 5.2 x 5cm
Accessibility Rainbow
size: 5.7 x 4.5cm
Talk to your users – TU – 4 EUR per Sticker
Printed on with a very shiny glitter background. Perfect to convince people around you, because, glitter makes everything better, right?
Specs: 7,62cm x 2,54cm (3″ × 1.92″)
UX Design Stickers — 4 EUR per Sticker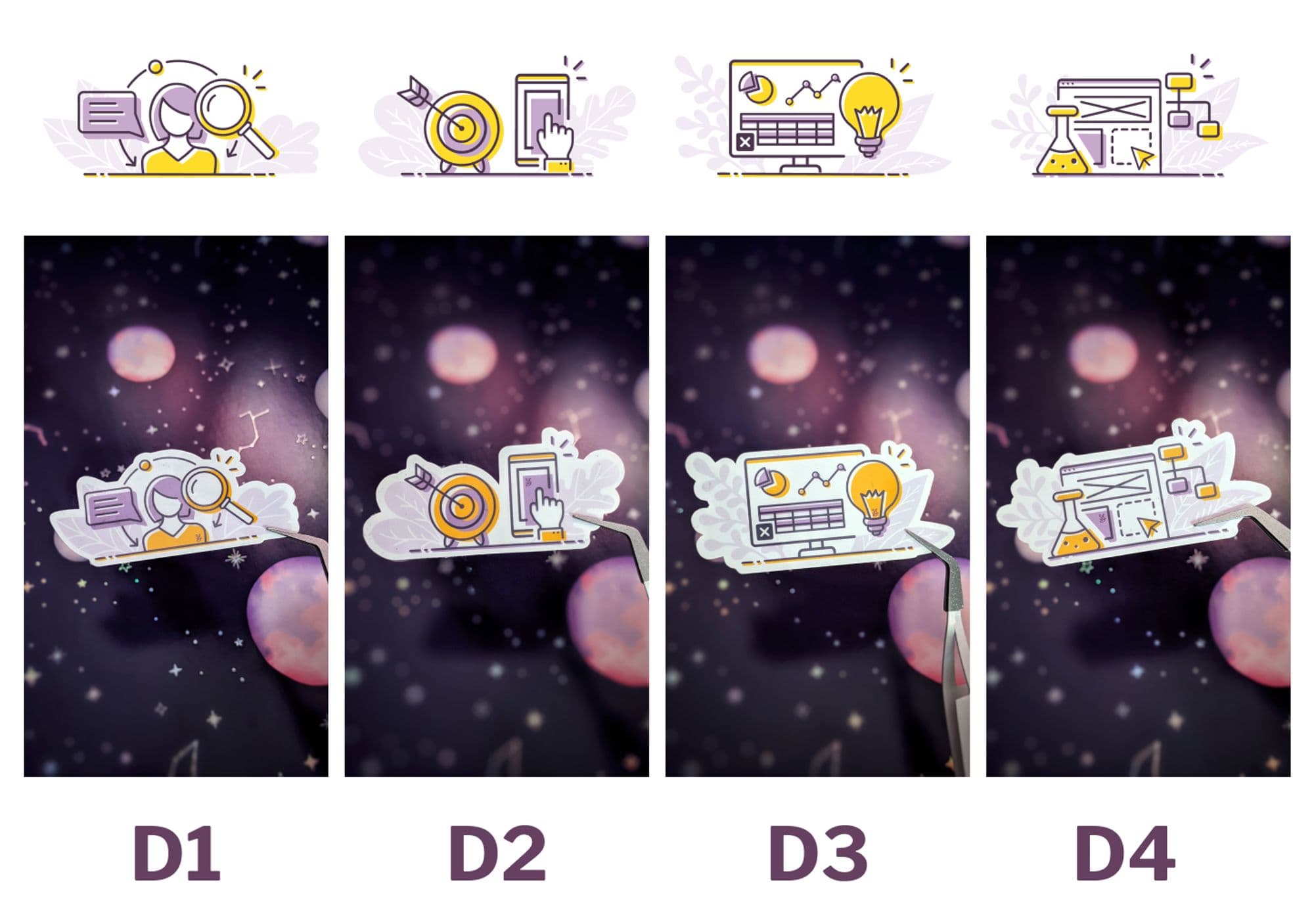 Glossy: 2 left of each
Steve the Seagull – ST — 4 EUR per Sticker
This one is printed on a transparent sheet, it has some layers of transparency (not home made). It's waterproof too.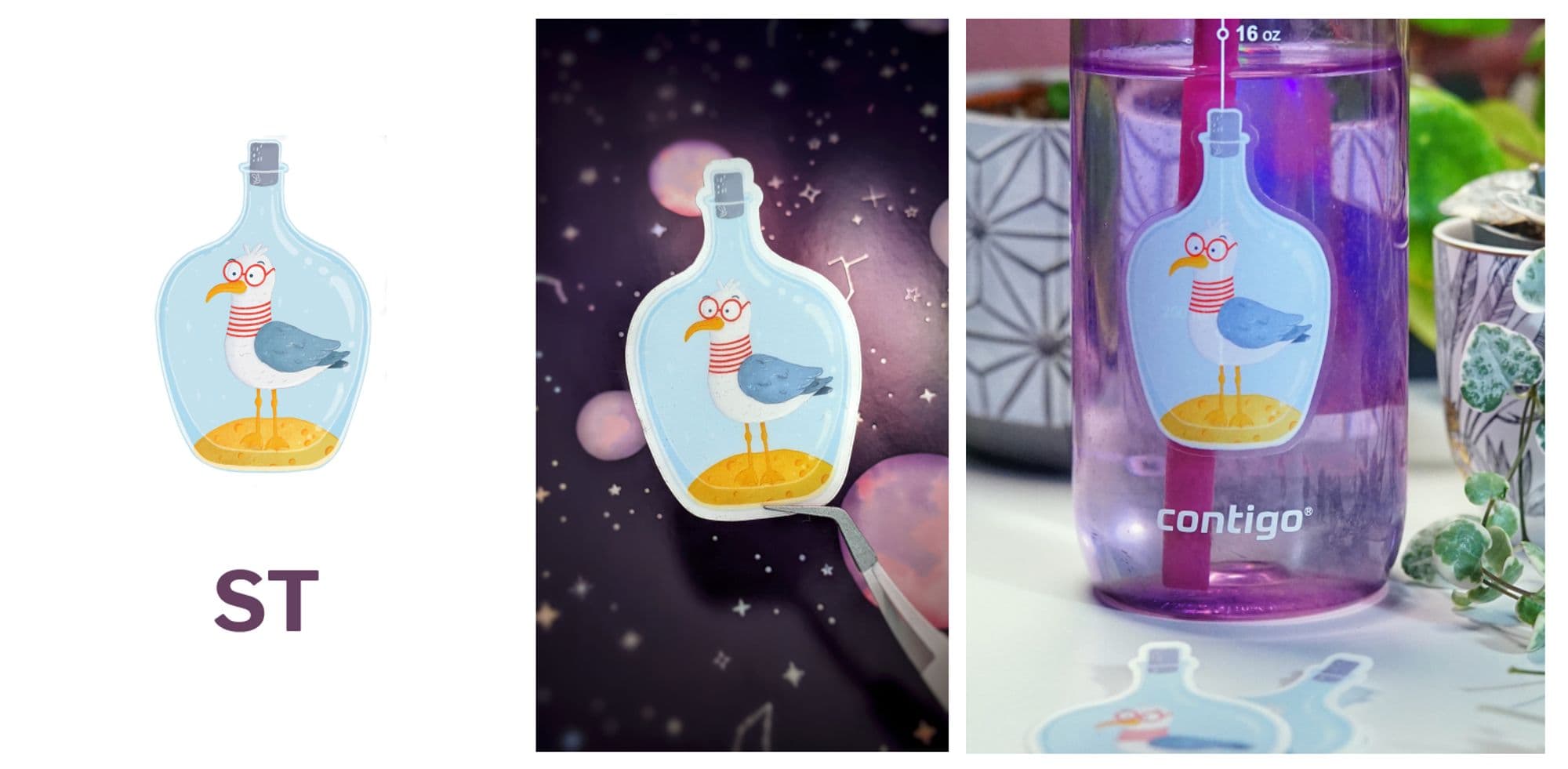 The Pentagram User Centric Design Process (on redbubble)
The only user centric design process you will ever need again. Get it right, focus on your users, who cares if you conjure a demon or two during the process, right?
You can find this fun one on my redbubble shop.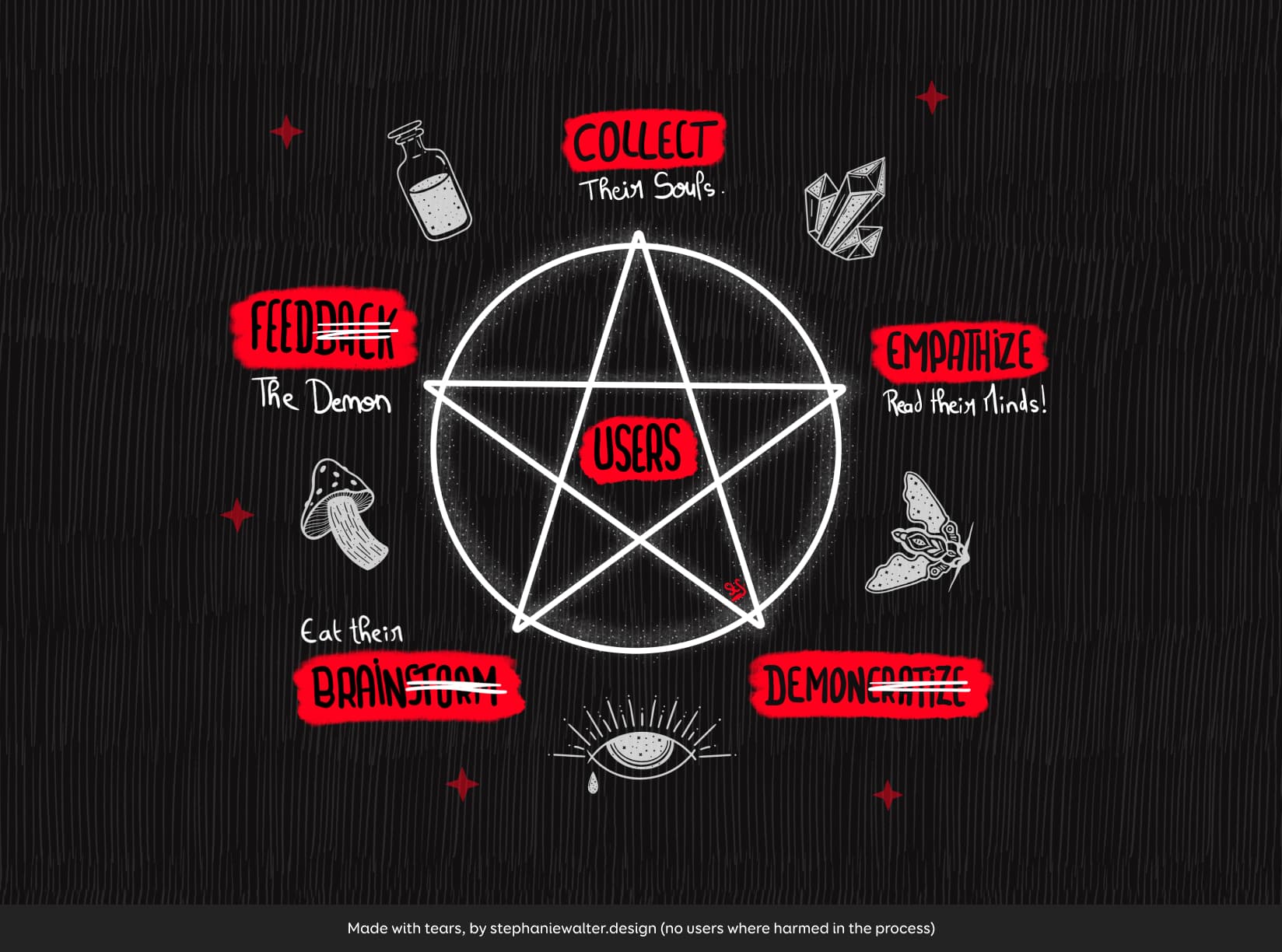 List of effects
Some stickers have specific overlay with certain effects. Here is the list of those. Keep in mind the overlay sheet is transparent and can be seen with there is light on the sticker.
Shipping fees
I will send them in a small envelope, it should not weight more than 50g, so it will go in the XS category (more info on Post website): 1.40€ for Europe, 1.75€ for the rest of the world.
If you order a bigger quantity, and it won't fit the 50g/ 5mm rule, I will send it in bigger format: 4.20€ for Europe, 5.25€ for the rest of the world
(note that those rates may change based on the rate of the post office)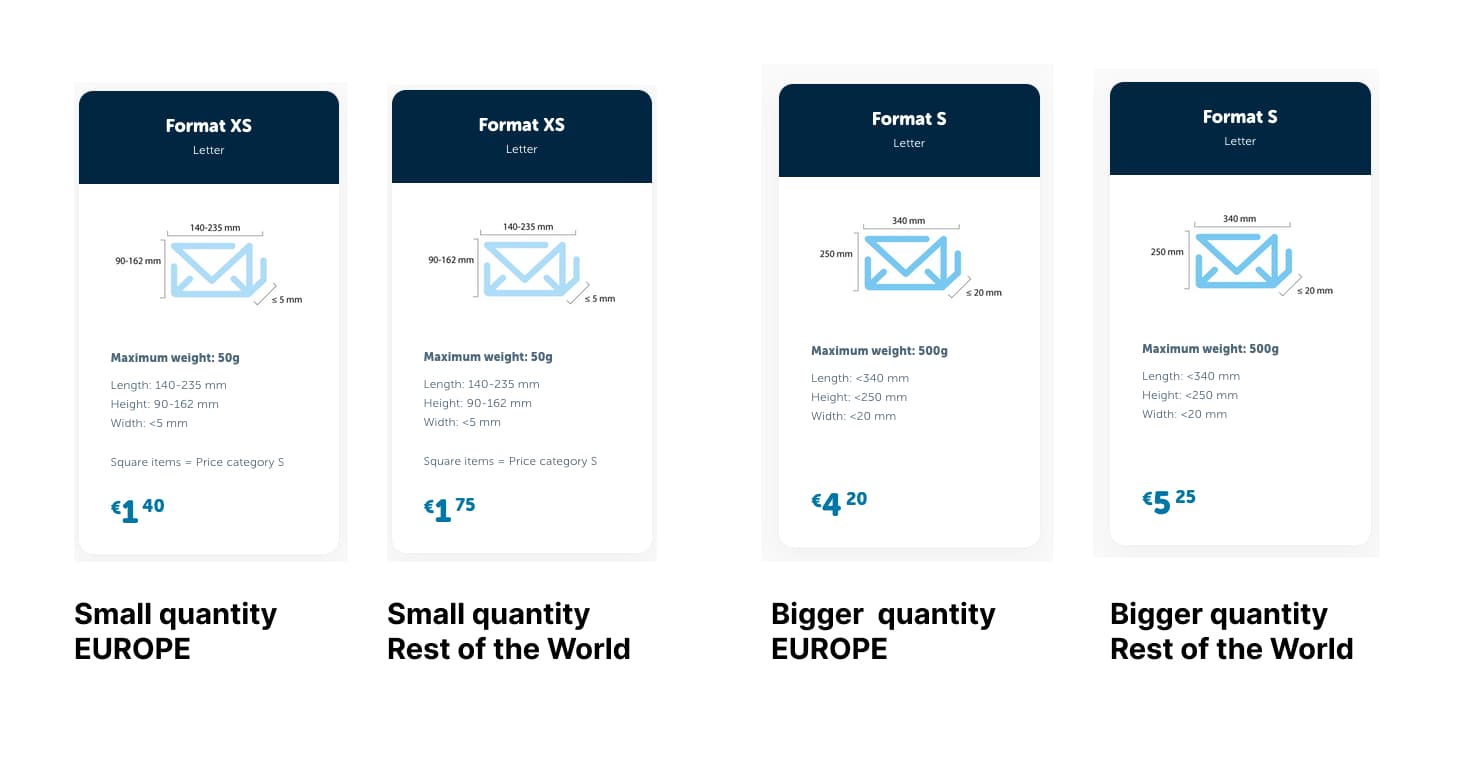 Note there is no tracking by default. But I can add a 1.98€ follow me (you only where the parcel is with a tracking number, or a  2.10€  acknowledgement of receipt.