Hi, I'm Stéphanie.
I'm a UX Researcher Product Designer.
Great design is where user needs and business goals meet. I seek to understand both to design user-centred, inclusive and accessible products and services.
I also write articles, teach design and talk at tech events all around the world.
When I'm not designing I enjoy drawing, riding my bike, playing video games, taking pictures of buildings and exploring new cooking recipes.
I'm an expert.
I spent the last decade helping clients in different industries (banking, financial, automotive, healthcare, press, travel, etc.) delivering successful projects to their users, all the way from strategy to the final products and services. I specialise in:
UX Research
I have a user centered approach to design and problem solving. I start with user research to understand their needs and painpoints. Then I prototype a solution and test, iterate until it's the perfect solution for them.
UX & Product Design
I design user friendly, inclusive and accessible products. I also work directly with development teams to deliver useful design specifications: user flows, mockups, design systems, interaction guidelines, etc.
Mobile Strategy
If you need assistance crafting an incredible and fast mobile user experience from native apps to responsive websites, get in touch!
I help other people grow.
On my blog, I share advice on user research, design, usability. Every week, I share a review of useful resources and articles to help the community grow. I've also collaborated with Smashing Magazine, The Pastry Box, Codrops, etc.
I give workshops & talks
I speak about topics that are dear to me (UX Design, accessibility, inclusive design, mobile, performance) and give workshops around the world.
I teach and mentor
I belive in helping the future generations of Designers. This is why I teach (for University of Strasbourg) but also online and provide mentorship.
I collaborated on some great projects
This is a just a small part of the great clients I collaborated with. You know how it is with designer portfolios: we don't have time to update them because we usually are super busy making our client's projects amazing. Also NDAs 🤫, and... that's basically it.
Redesign of Online Assessment tool
User Research, UI Design and User Testing for an online questionnaire used by student to pass tests. I worked closely with the HCI research team and developers to build a re-usable design system and a consistent visual identity that will help users (students) focus on the exams, not the interface.
Read the Case Study (.pdf) of Redesign of Online Assessment tool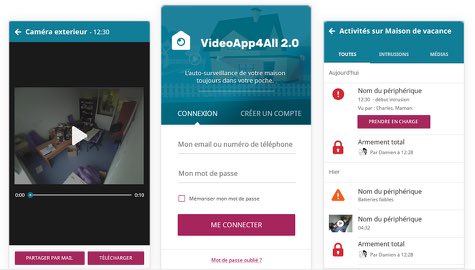 House Monitoring Mobile App
Information Architecture Workshop, User Flows and Mobile UI Design for an Ionic Android & iOS app. Users can monitor their house, arm and disarm alarm system, check event logs and request live stream videos directly from their phone. I built a consistent mobile style guide and we worked with the development team on user's perception of performance of the live stream.
(Case study coming soon)
Messenger Web App
This professional messenger web app interface provides a chat messenger with audio and video conference and a file sharing system. I started with a Usability Expert Review of the current interface. Then I sketched some paper prototypes to quickly iterate and propose solutions to the problems I saw during the review. Finaly I designed the User Interface of the messenger.
(Case study coming soon)
Illustrations
I also like to draw cute things so I sometimes create illustrations for my conference slides, for fun and some logos for friends
Moooooar Projects
Let's be honest: I'm not a developer so it's easier for me at the moment to have a PDF presentation. So I created a "secret presentation" for you so that you can find out a little bit more details about my process (and see a few selected projects I didn't have time to put on this site yet)
They Trust me
Yeah, this is the part where I put the nice logos of the companies I was lucky to work with! See anyone you know here?