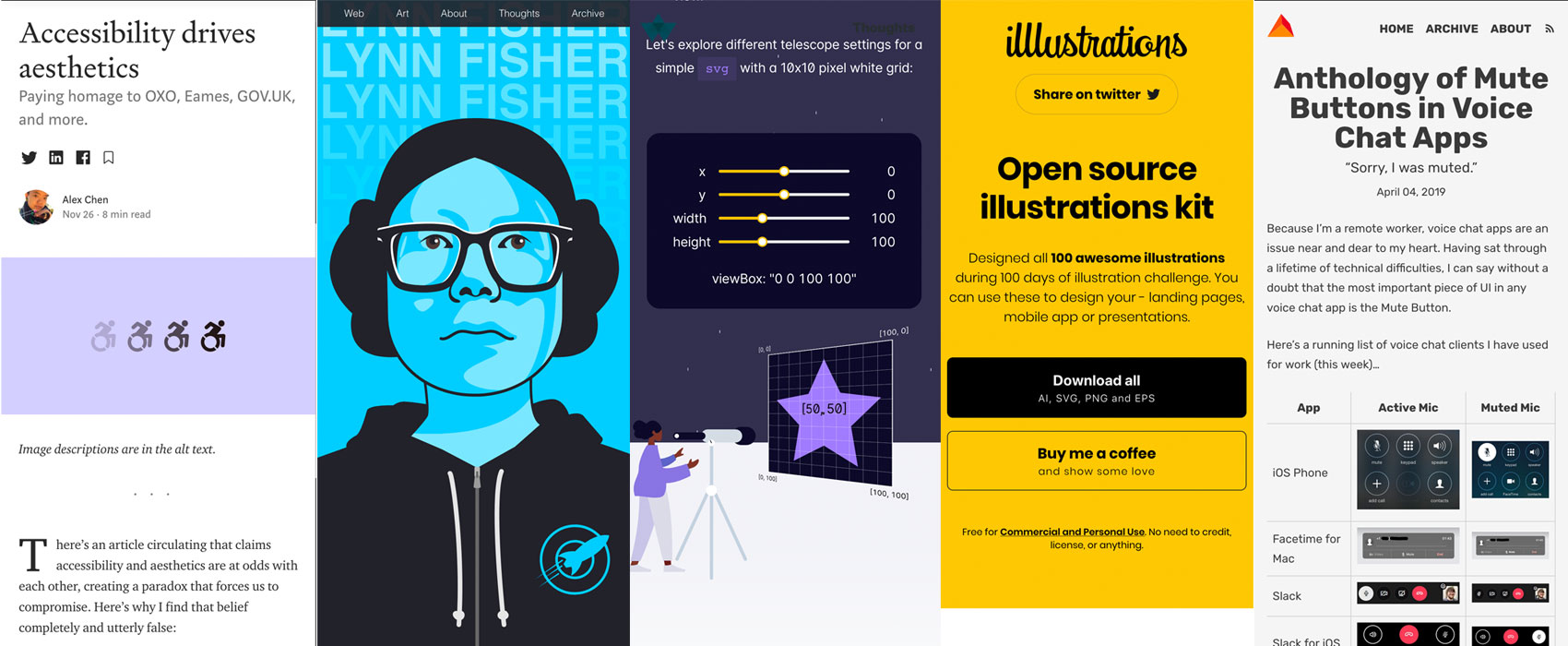 Pixels of the Week – December 1, 2019
Every week I share a list of curated articles, resources and tools about UX, UI and mobile design, HTML, CSS, the web industry, process inspiration and more…
This week's selection: buttons semantics, user flow tool, 10 rules of UI Design, accessibility drives aesthetics, design system tools and resources, scaling SVG elements, some nice portfolios, a performance tool, 100 free illustrations, MVP vs MVLP,  search results patterns, etc.
#Now – what I'm up to
In the second session of the introduction to UX design to startups, participants worked on paper prototype and usability testing, it was a great session! I'm preparing a little pack for my readers as freebies, stay tuned!
TL;DNR the one you should not miss
#Accessibility #Design
"Accessibility drives aesthetics" yes yes and yes. Great reply to the whole "of it's too accessible it's not aesthetically pleasing" discussion and article you might have seen sadly shared by a lot of UX people.
Interesting article
#Product
Complex Search-Results Pages Change Search Behavior: The Pinball Pattern by
NNgroup "As long as you're appearing near the top (within the first 5 results), you may have around a 10–20% chance of getting a click & anywhere from a 40–80% chance of getting a look."…
#Semantics
Links vs. Buttons in Modern Web Applications great article on HTML semantics by
Marcy Sutton
#DesignSystems
Modulz "Design, develop, document and deploy your design system—without writing code." This is a strong promise, I hope they deliver because it would be a cool tool
"Opening up the data behind your design systems" Figma has now a feature to get Design System Analytics, aka get data about usage of components and more.
Could be useful for big design systems to clean up unused components maybe?
Documenting Design Tokens, a nice article on documenting all of those small design tokens that you use across your design system like colors, typography, spacing, etc.
#UI
"10 rules of thumb in UI design" rule 4 about removing borders and background is for me debatable and really depends on the content density, but still most tips are basic good tips regarding UI design.
#Design #Product
Why minimum viable products are no longer enough. Start building MVLP (L is for Lovable) by bringing businesspeople and designers early into the inception and construction of digital products of any scale!
Inspiration, fun experiments and great ideas
#Logos
A fun twitter thread on logos brand guidelines and the fun stuff designers put in those documents
#Portfolio
Useful tools and plugins that will make your life easy
#Toolkit
Flowkit – Userflows right inside your favorite design tool. Available for Figma, Sketch, and Adobe XD" this looks like a nice game saver plugin. Anyone tried it yet? I need to convince people if I want to get it for our projects
#JS
A Javascript library that makes your face look at the pointer. Ideal for resumes or team sites: Creepyface. I love this fun ideas I'm not sure I'll ever use this but the fact is exists makes me happy
#SVG
A small tool to help you understand scaling SVG elements
#Perfomance
Would your Fit on a Floppy? Mine would hehe (and so did Tetris when I was younger).  A cool tool to start a conversation about performance
#freebies
Illustrations, a kit of 100 free (or pay that person coffee) open source illustrations kit
Do you want me to give a talk or a workshop for your company or conference? Are you looking for some help with UX research, design and strategy? You can take a look at my work and contact me.