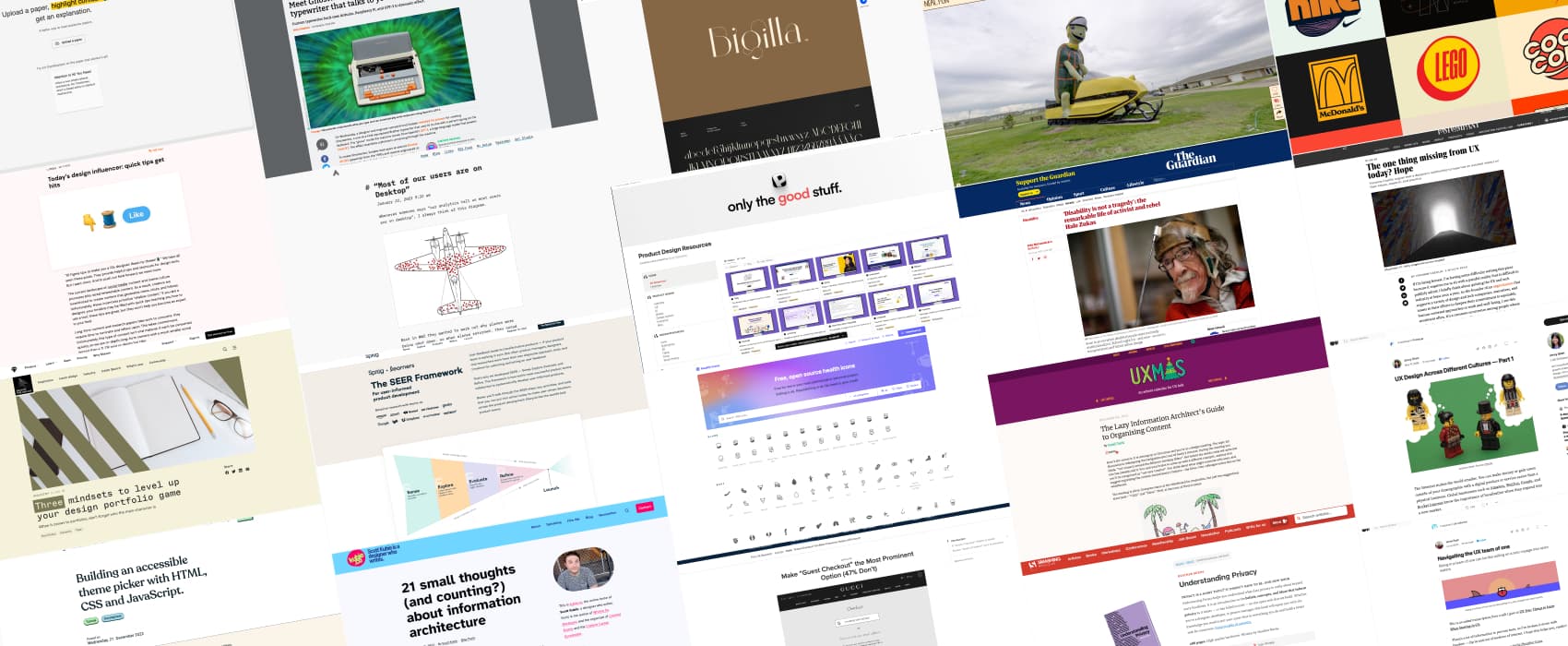 Pixels of the Week – January 29, 2023
On Twitter and LinkedIn and Mastodon, I share curated articles I read, resources and tools about UX Design, User Research, UI and mobile design, HTML, CSS, the web industry, some process, some inspiration, etc. This is an archive of everything I shared this week. And some extra links that I decided to only share for the blog readers. Also, subscribe to the newsletter to get notified when those are published!
#Now – what I'm up to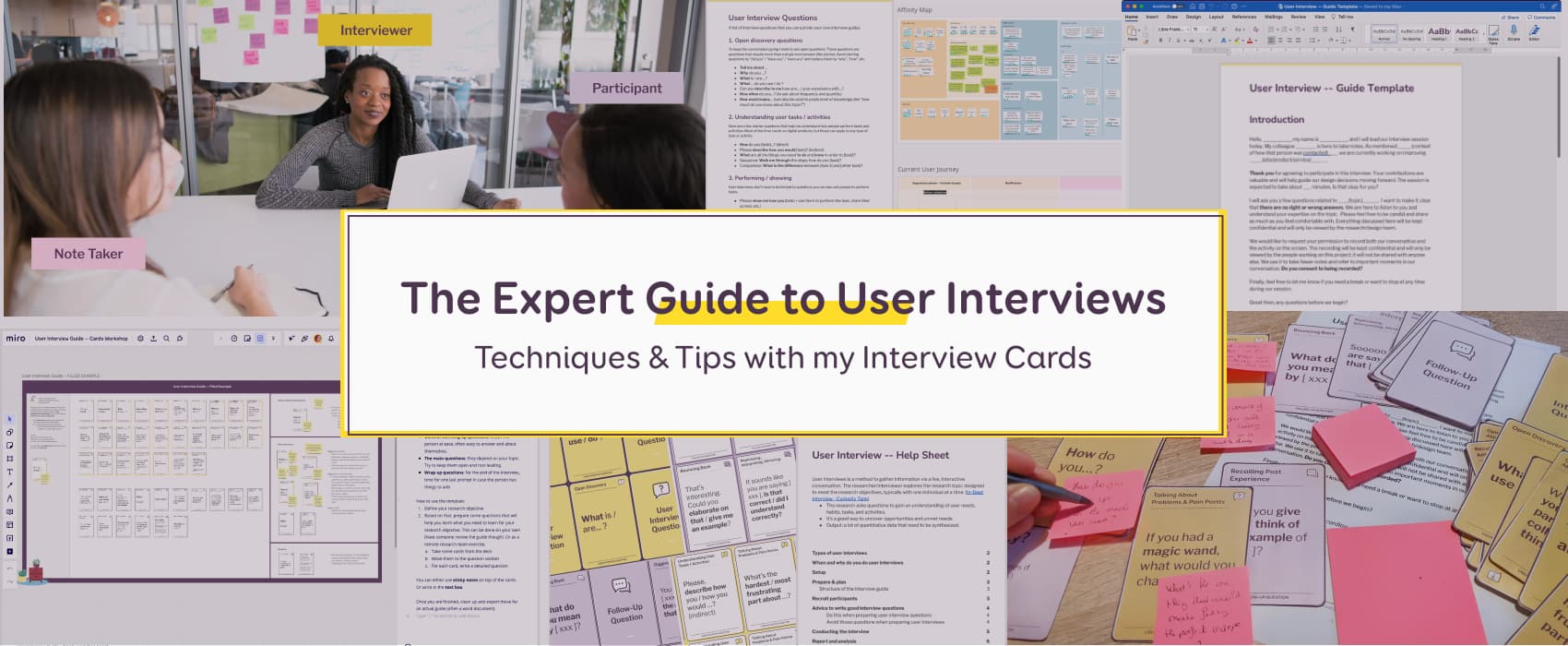 Need help with user interviews? I wrote "The Expert Guide to User Interviews", a guide on how to plan, prepare and facilitate them, and created some UX cards and Miro/Figjam workshop boards to help you write your questions and interview guides more effectively! Also, Newsletter subscribers, you have a little coupon!
TL;DNR the one you should not miss

#Health Icons
If you are working in health tech, this is a goldmine: free open source health icons. Haa, I wish this existed when I designed a portable ultrasound machine UI and had to create bladder icons
Interesting article

#Product Design Framework
I am usually not a big fan of most UX/ Product design frameworks graphs out there, often look over complicated. But, this one looks quite nice: SEER: Sense, Explore, Evaluate, Refine. Also, it involves users at different steps.
#UX #Product Design
#Information Architecture
#Portfolio
#Social Media
Sad true state of social media: quick tips and fluff get hits, complex articles with deep thought don't get views or likes and are lost in the noise. How do you expect designers to work on complex things when they get fed fluff all day long?
#Psychology
"Most of our users are on Desktop", the survivor bias applied to analytics. Yup.
I worked for a client who said that they didn't want to invest in the site because only 20% of revenues came from it. But, yeah, the site was barely usable.
#AI
#Disability
'Disability is not a tragedy': the remarkable life of activist and rebel Hale Zukas, a great article on how Hale Zukas pushed things forwards when it comes to the accessibility of public transportation in his city, and much more.
Inspiration, fun experiments and great ideas

#Street View
Wonder Of Street View brings you random whimsical, strange, fun images from street view
#Codepen
The most hearted codepens on 2022, if you are looking for code meets fun inspiration
#Typography
Beautiful font alert: Bigilla™ is a display serif typeface from Jérémie Gauthier that features 2 font weights (Regular-Bold) that include many ligatures and alternates
#ChatGPT #Typewriter
This is the kind of fun projects I love: Arvind Sanjeev plugged GPT-3 AI into an actual physical type writer to create an actual physical ghostwriter machine. Meet Ghostwriter, a haunted AI-powered typewriter that talks to you
#Logos
Rafael Serra is a type designer and lettering artist based in Porto, and I love how vibrant and colorful his work is
Useful tools and resources that will make your life easy

#Product Design
A notion collection to find some Product design Resources, from tools to places to learn UX, UI, Mobile design, design systems and more:
#Explainer
Explainpaper, upload a paper to the tool, highlight confusing text and it will get you an explanation. This can be nice if you want to read academic papers, but English isn't your native language
#ChatGPT
A fun and great collection for prompt examples to be used with ChatGPT. If you want quality results, you need the prompts to be quite detailed. So, those are interesting examples of what you can do with the tool.
Videos
#Brain
The dubious claims of brain training, of what apps who tell you they can prevent Alzheimer or boost your IQ are scams, and actual good advice to help your brain stay healthy.
Books

#Security
This is perfect timing, I'm more and more interested in the topic of privacy on the web, I honestly think we all should, so, yeahy super happy to see that Heather Burns
collaborated with Smashing to write a book on the topic: Understanding Privacy.
Tutorials

#Accessibility
#SVG
6 Common SVG Fails (and How to Fix Them), if you need help debugging your SVGs, I would start here. Often the concept of viewbox is a little bit tricky for beginners.
News in the industry

#Design
Wikipedia got a small redesign, you can now Explore Wikipedia's New Look
#AI
Exclusive: OpenAI Used Kenyan Workers on Less Than $2 Per Hour to Make ChatGPT Less Toxic, the story of the people who had to read horrible texts from the worse parts of the web to help train AI