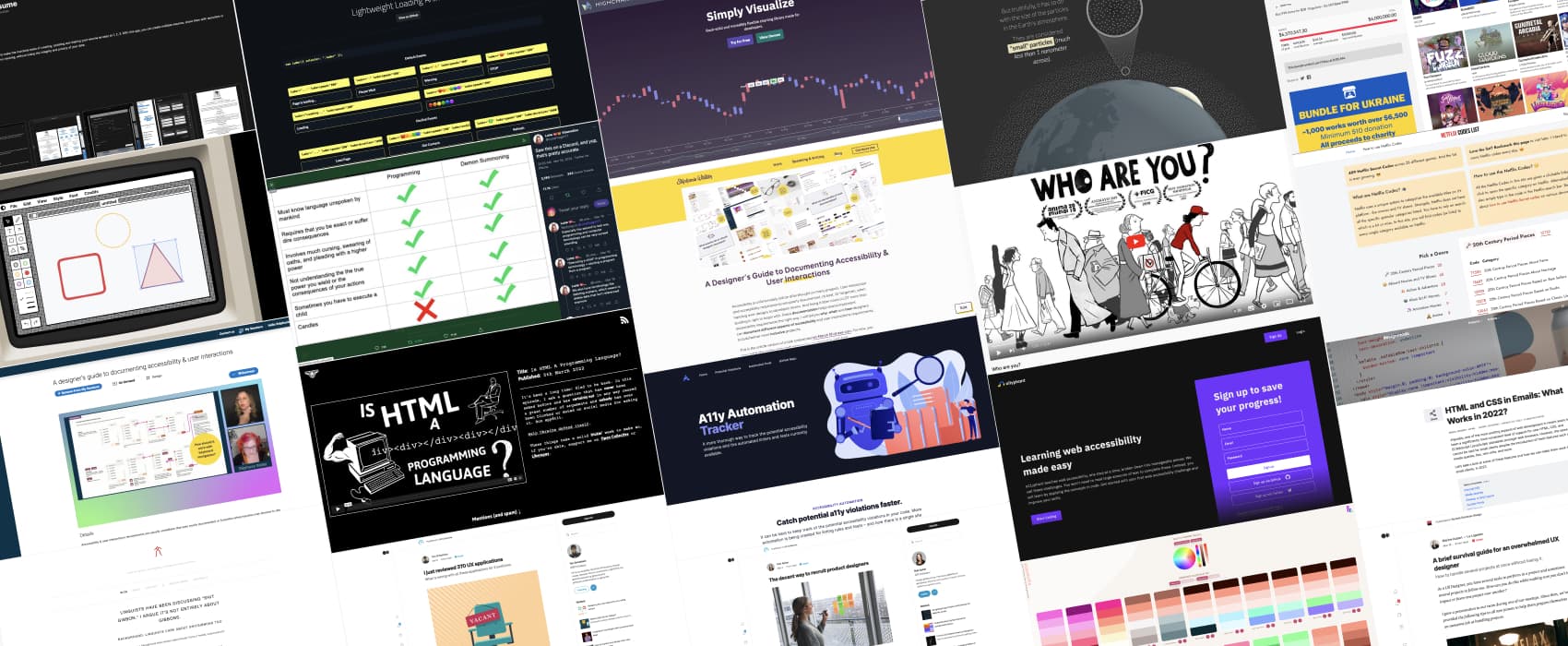 Pixels of the Week – March 20, 2022
Every day, I share on Twitter and LinkedIn a list of curated articles I read, resources and tools about UX Design, User Research, UI and mobile design, HTML, CSS, the web industry, some process, some inspiration, etc. This is an archive of everything I shared this week.
#Now – what I'm up to

This week, I presented a talk at axecon. The written version of that talk is available on my blog: A Designer's Guide to Documenting Accessibility & User Interactions. The feedback were amazing, and I want to thank you all again for the kind words. For now, you can watch the replay of my talk page once you logged in until April.
Also little reminder: I'm presenting my "An introduction to UX design and research" next week, a 45 min presentation where I explain what I do for a living. You can still register for free.
TL;DNR the one you should not miss

#Programming
Is HTML A Programming Language? A 6 minutes amazing video by @heydonworks, in case you still needed convincing. Also, there's a horse. It's important!
Interesting article

#UX Research
Should you ever NOT listen to user feedback? Interesting article on the difference between user feedback vs user insight and where to look for the second
#Navigation
Alternatives to Pagination on Product-Listing Pages: Infinite loading and Show More buttons can provide smooth interaction when loading products.
#UXJob
"I just reviewed 370 UX applications" interesting read on the issue with many UX designer portfolios those days in a over saturated market filled with bootcamps over promises by @yangrin
#Time Management
A brief survival guide for an overwhelmed UX designer: gold advice here from @marineaubert, especially about delegating to others, and booking periods to be productive
#Linguistics #Insults
As someone with a love and background in languages, this is the kind of information that make my day: "Linguists have been discussing "Shit Gibbon." I argue it's not entirely about gibbons." via @myriamjessier
#Design Recruitment
Dear recruiters looking for designers, please read this, reflect on it, follow those advice: The decent way to recruit product designers. Main advice: if you know nothing about design, look for help from an experienced designer. YES!
#Big Companies
An interesting thread on 5 traps to avoid when working at a big company
#Mail
HTML and CSS in Emails: What Works in 2022? From media queries to flexbox, custom fonts, etc, what can you use in your email campaigns today?
Inspiration, fun experiments and great ideas

#Chairs #Fun
I'm in the market for an ergonomic chair, and my search lead me to this fun twitter thread on position on Herman Miller aeron chairs.
#Illustration
The strange amazingly creepy horror style illustrations of Nez
#Dataviz
I like fun interactive data visualizations, here a cute one on "why is the sky blue"
#Paint
Nostalgic from old school mac paint? Here's a fun demo in the browser
#Inspiration
This is a cute short film on inspiration, luck, and fate: "Who are you?"
#Demon
This made me laugh a lot: a comparison of programming and demon summoning
Useful tools and resources that will make your life easy

#Color
This tool generates different types of palettes based on a primary color
#Accessibility
A11y Automation Tracker, a automation tool to catch potential a11y violations in your code faster
#Dataviz
Simply Visualize, a rock-solid and incredibly flexible charting library made for developers.
#HelpUkraine
A Bundle of video games to help Ukraine survive and rebuild
#Loading
In case you need a loading animation JS library, lwder.js got you covered
#InformationArchitecture #Netflix
This is fascinating for my IA brain: Netflix has a strange list of codes to categorize their content. This site lets you browser those secret codes
#Resume
If you are looking for a tool to build a resume, I present to you Reactive Resume, a free and open source resume builder
Tutorials

#Accessibility
a11yphant.com, a place to learn the basics of web accessibility with explanation and small code exercises and quizes to test your knowledge
Interesting Video

#NFTs #Crypto
Line Goes Up – The Problem With NFTs, a long, 2:18 documentary on the issues with crypto currencies and NFTs that starts with the 2008 economy collapse.