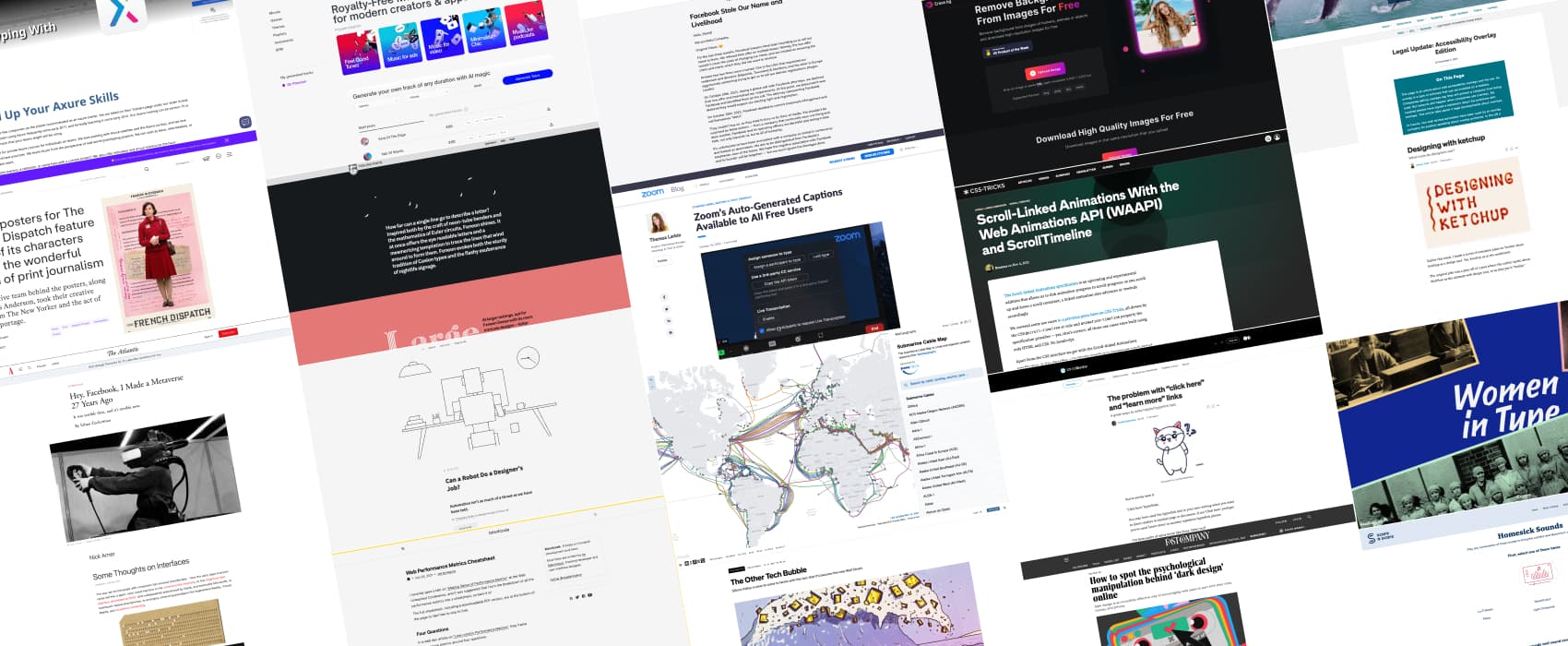 Pixels of the Week – November 14, 2021
Every day, I share on Twitter and LinkedIn a list of curated articles I read, resources and tools about UX Design, User Research, UI and mobile design, HTML, CSS, the web industry, some process, some inspiration, etc. This is an archive of everything I shared this week.
#Now – what I'm up to

Hii, I'm back from holidays. Weather was meh, but the Botanic Garden in Amsterdam was awesome! I also published an article on Tips on How to Pick the Right Icons for Your Website. It comes with a 🎁 Icons8 Giveaway, you can participate until November 17.
This week I facilitated a "how might bad actors abuse your product and what can you do about it" remote workshop. It was a lot of fun. It went in 3 rounds: list features, another group plays "bad actors" and abuses the features and then find ways to prevent and react to those. I also talked at Entrepreneurship Talk n°3: Introduction to UX design.
TL;DNR the one you should not miss

#Accessibility
The problem with "click here" and "learn more" links: some Interesting tips to help you write better hyperlinks
Interesting article
#Design
#Psychology
An interesting read on psychological manipulation and deceiving patterns that trick users.
#TechIndustry
Techies Still Think They're the Good Guys. They're Not. It's maybe time to burst that silicon valley bubble and get back
#Metaverse
"Hey, Facebook, I Made a Metaverse 27 Years Ago. It was terrible then, and it's terrible now." A really interesting article by Ethan Zuckerman
#Mobile FrontEnd
I was not aware of this, could be nice to enhance mobile UX: The enterkeyhint attribute changes the action key on a mobile keyboard to change the text/affordance.
Inspiration, fun experiments and great ideas

#Dataviz
This is really cool: a map of all the submarine cables around the world
#Typography
Useful tools and resources that will make your life easy

#UserFlowRecording
Hum, you can now record user flows in the Chrome dev tool and replay the session, I wonder if this could be useful for (non remote) usability testing?
#Performance
This is cool and useful: Web Performance Metrics Cheatsheet by @ireaderinokun
#Noise
In case you are in the office and are missing those "home" sounds like trapped fly, small dogs, or maybe children and roommate in a zoom call sound, here's a tool that lets you play them in the background
#Music
Interesting project: music generated (created, composed, recorded) by Artificial Intelligence (that you can use for your projects)
#Tool
If you need to remove the background of an image and don't have Photoshop, here's an online tool
Tutorials & Trainings

#Scroll Animation
This is really cool: Scroll-Linked Animations With the Web Animations API (WAAPI) and ScrollTimeline
#Axure
Want to level up your prototyping skills? Debbie Levitt is has a 2 days of Axure Core skills (beginner) and Advances Skills (advanced) online training for $75 each.
I will attend the second one since I already did the 1st last year
News in the industry

#Accessibility
#Web Technologies
Everything announced at Chrome Dev Summit 2021, a 5min video to get you up to speed
#MetaVerse