La semaine en pixels – 13 Octobre 2017
Comme chaque semaine,  un condensé de mes lectures et ma veille web design et graphisme, expérience utilisateurs, design d'interface et mobilité, mais aussi des outils et ressources pour le web design et de l'inspiration en tout genre : illustrations, photos, sites web, etc.
Au programme : architecture d'information pour le mobile, illusions, interfaces conversationnelles, de jolies idées de design, du design pour l'iPhone X (encore…), des outils pour l'UX, comprendre le user journey map, du workflow d'intégrateur, AMP, de très jolies illustrations, des demos grid layout bien fun et un plugin Sketch pour les polices manquantes.
Pour plus de liens chaque matin vous pouvez me suivre sur twitter. Bonne lecture :)
J'ai publié un truc cette semaine
#Mobile #Architecture
Construire Une Architecture d'Information adaptée au Mobile – le transcript de mon atelier à ParisWeb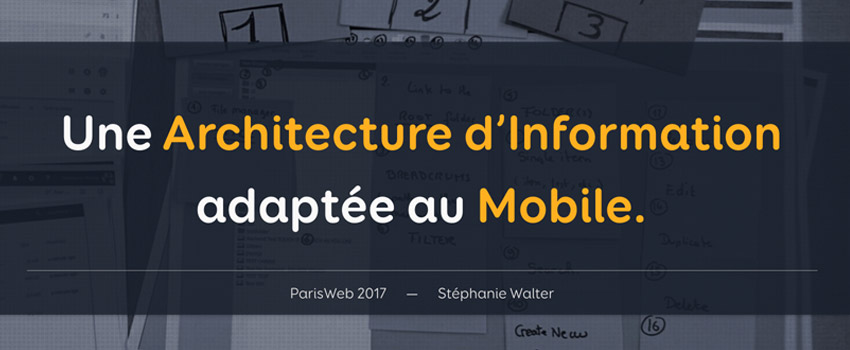 Les liens en français
#Nos Métiers
« L'informatique est trop importante pour être laissée aux hommes » le transcript de la conférence sur le sujet à Parisweb
#Performance
Améliorer la performance : entre réalité et ressenti, la conférence de Geoffrey Crofte sur la perception de la performance à ParisWeb
tl;dnr, s'il devait n'en rester qu'un ?
#Design #Illusion
Je suis totalement fan de ces illusions d'optique 11 Optical Illusions Found in Visual Design
Les articles de la semaine
#Design et UI
#UX
#iPhone
UI Design for iPhone X: Top Elements and the Notch
#Front-End
Un workflow avec codepen c'est possible : Using CodePen Can Boost Your Front-end Development Workflow
#Typographie
Ceci m'a fait beaucoup rire un matin : In Defense of Papyrus: Your Guide for When to Use Despised Fonts
#Mobile #AMP
Encore du teste chez Google… Google testing blue 'instant' AMP label in the search results
#Gutenberg #WordPress
A review of Gutenberg, the new WordPress editor with a few interesting concerns
De l'inspiration et de jolies idées
#Illustration
#CSS
#Typographie
Des lettres qui bougent : Text animated with JavaScript & anime.js
L'actualité webdesign
#Sketch
Introducing Libraries and Smooth Corners in Sketch 47, les nouveautés Sketch 47
Des ressources utiles, outils et plugins pour vous faciliter la vie
#Police #Sketch
FontBuddy for Sketch — un plugin qui vous trouve les polices manquantes sur Sketch
Vous souhaitez des conseils en ergonomie ou en expérience utilisateur ? Un design de site, d'interface ou d'application mobile ? Envie de travailler ensemble ou de m'inviter à donner une conférence ? Consultez mes réalisations ou contactez moi directement.