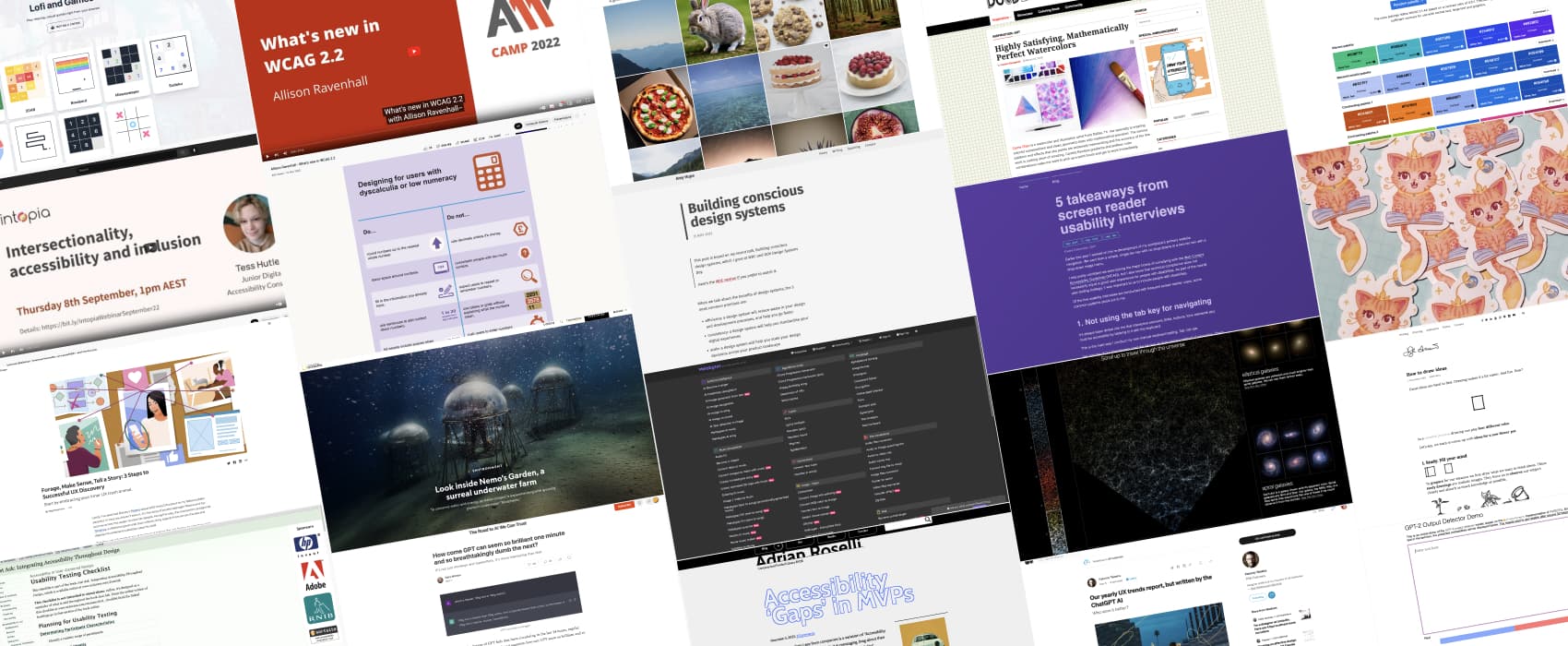 Pixels of the Week – December 18, 2022
Every day, I share on Twitter and LinkedIn a list of curated articles I read, resources and tools about UX Design, User Research, UI and mobile design, HTML, CSS, the web industry, some process, some inspiration, etc. This is an archive of everything I shared this week.
#Now – what I'm up to

It's the end of the year! My Smashing workshop is finished and it was awesome, very nice group, a lot of amazing feedback. Last event for the year: December 20, 7:30CET // 6:00PM Canadian time, I will talk about documenting accessibility in an online meetup. It's free and you can still register.
I also continue my stickers adventures. My Silhouette Cameo 4 arrived, and I'm like a 5 years old child with a new toy. I printed and cut stickers before, but I had to cut them by hand. This time, I went full machine cut with two new stickers: a cute little orange Yuumi cat, and the illustrations I built for my portfolio. Next step: some cool paper plants. I will post on Twitter and Insta if you are curious.
TL;DNR the one you should not miss

#Design Systems
Building conscious design systems: great read on how design systems go beyond UI, reflect biases, discrimination, exclusion of the systems they are built in, so can help perpetuate issues (like inaccessibility, etc.), and how to try to mitigate this.
Interesting article

#UXResearch
The interesting concept of foraging, aka, gathering knowledge you and your teams have about a specific topic and problem to help you tackle it. Unleash your internal raccoon!!
#Accessibility
#AI #GPT
"GPT-3 is the king of pastiche" is a interesting way to describe it. Interesting article to explain why GPT content is sometimes good and sometimes very very bad.
"I'm about sick and tired of being told that AI systems that output horrific, racist, homophobic, antisemitic, and misogynist crap are working as intended. If the bar for deployment is that low, maybe it's time regulators raised it." Same here: Meta takes new AI system offline because Twitter users are mean 
Let's talk automated generated text, noise and soup word in the UX industry.
Fabricio did an interesting test: he asked ChatGPT to generate the "UX trend report". The result is interesting and depressing at the same time. The generated text gets quite close to the low level of UX fluff soup I see published in some places (medium among others) those days. The content isn't very wrong (expect for the tools, haha), but, not very accurate either. And not actionable. It's trying to please everyone. Such articles already exist. A lot of people write those, just to get an online presence, and often, to sell you some stuff at the end of the article. SEO content basics. It's becoming increasingly harder to find good actionable information about UX methods, tools, because you need to cut through the noise of PDF / training sellers and UX tools who publish articles just to rank on a specific topic. And that's a big issue for juniors, who are not equipped (yet) to cut through the fluff. I'm afraid the noise will get exponentially worse.  What to do about it? For once, you can copy paste pieces of the content in here to check if it was generated. Then cross reference, and develop critical thinking about what you read. But, this takes time.
#Toxic Culture
"Court Declares Legal Right To Be Boring… And Not Participate In A Bunch Of Sexual Harassment, Which Seems Way More Important." Yeah, you can call me boring all you want too, mandatory "fun and pro" parties it a big nope.
#Drawing
How to draw ideas, a cute illustrated article
#Meeting
Brainstorming the way most people do it doesn't work. No kidding…
Inspiration, fun experiments and great ideas

#Nature
To conserve water and energy, an Italian project is experimenting with growing plants in underwater "biospheres.", it's called Nemo's garden, and it's quite surreal and intriguing (not sure how sustainable it is though)
#Inspiration
"Highly Satisfying, Mathematically Perfect Watercolors", very satisfying indeed
#Map #dataviz
Yeah, I'm a big dataviz fan, you should know by now. So here we are, this is a beautiful map of the observable universe
#Game
Play some games in the browser while listening to lofi music, it's quite relaxing. I love the 2048 game usually
Useful tools and resources that will make your life easy

#Color #Accessibility
An online tool to generate an accessible color palette based on one color. Be careful though the contrast ratios are only checked against pure white/black, not against each color in the palette
#Usability Testing #Accessibility
A checklist to help you plan and conduct usability testing for accessibility
#Accessibility
Designing for people with dyscalculia and low numeracy: a poster to help you get started, a very nice poster. Accessible text version of the poster.
#AI
A collection of tools, to generate art with different automated tools and AIs. You can generate images, musics, videos, there is a lot to explore, check Melobytes
for strange and fun examples
#AI #Photos
A gallery of AI generated photographs, aka, none of those are real, but you can use them for you next project, even commercial ones. Attribution appreciated.
Videos and Podcasts

#Accessibility
An awesome video talk on all the new things coming to WCAG 2.2: dragging movement, target size, accessible authentication (this one is particularly interesting), keyboard focus, focus appearance.
#Inclusive Design
Great talk by Tess Hutley at Intopia, about intersectionality, accessibliity and inclusion, full of examples of things to avoid, and how to improve and build better more inclusive products
#Accessibility #Podcast
Great episode: Lē Silveus McNamara talks about neurodivergence, color choices, and overstimulation