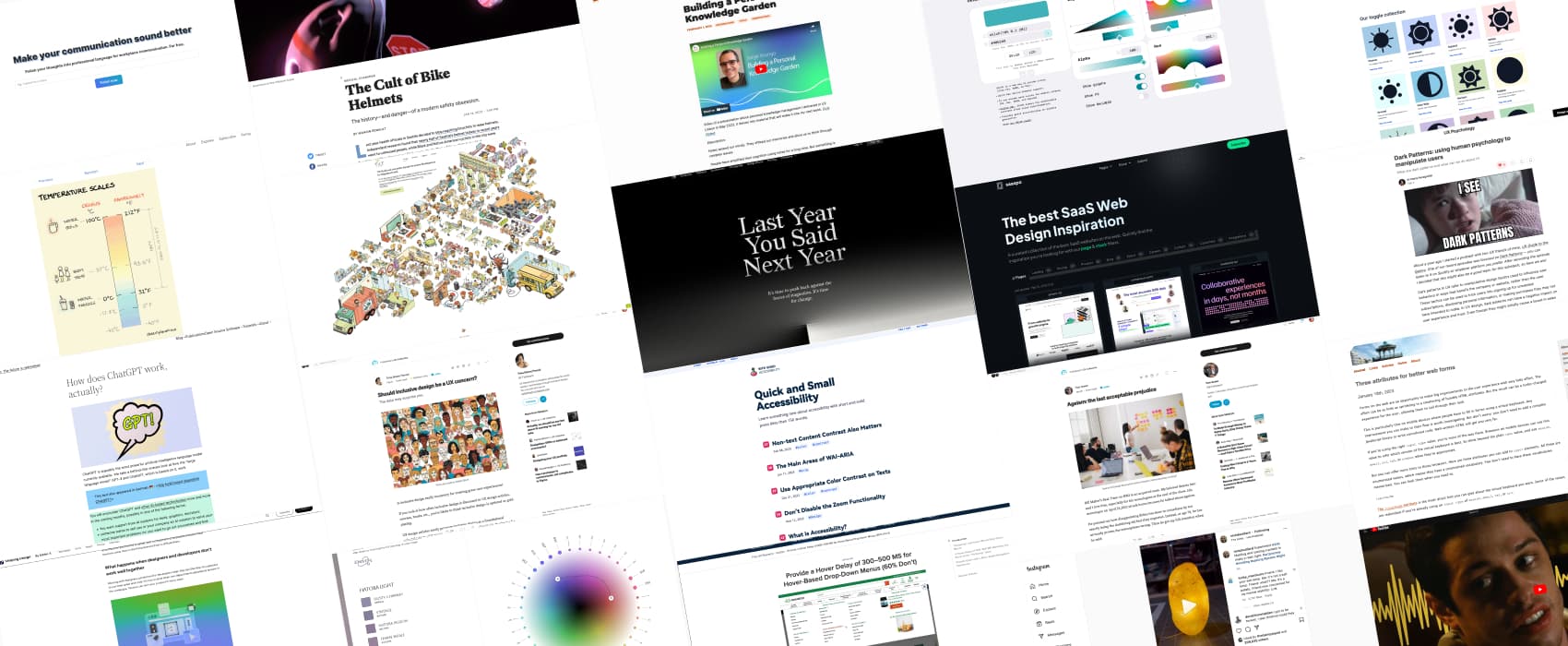 Pixels of the Week – February 12, 2023
Accessibility bites, color tools, design/dev relationship and plenty of nice tools!
On Twitter,  LinkedIn and Mastodon, I share curated articles I read, resources and tools about UX Design, User Research, UI and mobile design, HTML, CSS, the web industry, some process, some inspiration, etc. This is an archive of everything I shared this week. And some extra links that I decided to only share for the blog readers. Also, subscribe to the newsletter to get notified when those are published!
#Now – what I'm up to

Free event: I'll be talking about scaling accessibility through design systems with awesome folks: Lauren Beatty, Geri Reid, and Aprile Elcich. It's an online free event, Feb 16th 7 PM CET / 1 PM EST / 10 AM PST via Zoom. Register to the event here.
I updated my list of 10+ resources to help you find the right UX tool and method depending, on your project and needs with some new links! I was also joking around about why UXers love sticky notes on Twitter, LinkedIn and Masto
I needed a pot for my stabilos. And I wanted to test foiling with my hot laminator. So here we go, witchy pattern drawn quickly in Procreate, printed on black paper on a pot model I created before. You check the small video. I'm also preparing some mascots for my mastodon instance. So, here we are, raccoon (and a opossum specific request). I also got some new glossy paper and run some color tests. Turns out printing with the matte option on glossy paper is my favorite color yet.
I also decided to try plant based burgers: the secret is to treat the patty like actual meat with liquid smoke, Worcestershire sauce, garlic powder. It was awesome. I couldn't find gluten free burger buns, so, bagel is it
TL;DNR the one you should not miss

Interesting idea: short articles about specific accessibility concepts, in 150 words or less: Bite Sized Accessibility. Keep in mind that 150 words is short, so, you still need to dig further for most topics.
Interesting articles

UX, Design, devrel and deceptive patterns
Front-end good reads
Change, recession and ageism
The other interesting articles
Inspiration, fun experiments and great ideas
Useful tools and resources that will make your life easy
Color and color themes
All the other cool tools:
Videos
Conferences

Building a Personal Knowledge Garden, a great talk by Jorge Arango on the tools we used to use through history and those used today to help us deal with the amount of information around us