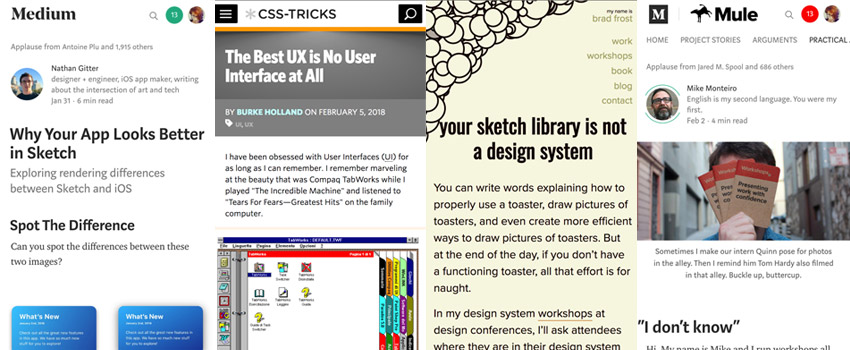 Pixels of the Week – February 9, 2018
Every week I post a lot of my daily readings about Web, UI and UX Design, mobile design, webdesign tools  and useful resources, inspiration on twitter and other social networks.
This week's selection: data table design, PWAs on desktop, animation tips, Sketch vs iOS rendering, interruption in workspace, design thinking explained,NPL and voice / conversational interfaces, print design advice, faux bold detector, learning to say "I don't know (yet)",  Sketch library vs design system, CSS tutorials.
You can follow me on twitter to get a dose of links every days.
I wrote an article and had a conference video published this week
#Table Essential resources to design complex data tables, my current list of resources when I need to design complex tables with a lot of data, interactions, etc.
#Performance Cheating The UX When There Is Nothing More To Optimize, the video from my Smashing Conference on perceived performance with examples form a few projects
TL;DNR the one you should not miss
#Sketch #iOS
Really interesting: Why Your App Looks Better in Sketch. Don't assume that equal values imply equal results. Even if the numbers match, the visual appearance may not.
Interesting article
#Design / #UX
#PWA
Workers at Your Service – PWAs on Safari: "WebKit will remove unused service worker registrations after a period of a few weeks. Caches that do not get opened after a few weeks will also be removed."
PWA on desktop. Really interesting points on what it would take to bring PWAs on desktop and the need (or not) of a store.
#Motion
Get started with motion design in 9 steps. I could not agree more with Animation is not just a layer of paint, also don't make user wait for your animation to end to be able to interact. A really nice little article with lovely animated GIFs
#Front-End
Dark patterns with the HTML 5.2 <dialog> tag and Chrome for fun and profit. Meeeh don't be evil 🙁
#Workspace
Interruption is Not Collaboration (a 23min podcast). Sooo true
Tutorials
#CSS
Useful resources, tools and plugins that will make your life easy
#Typography
Hello #typography lovers, faux pas, a faux web font detector is a script to highlight elements that are mismatched incorrectly to @​font-face blocks, which may result in shoddy faux bold or faux italic rendering.
#Difference
Automatic visual diffing with Puppeteer
Do you want me to give a talk or a workshop for your company or conference? Are you looking for some help with UX research, design and strategy? You can take a look at my portfolio and contact me.