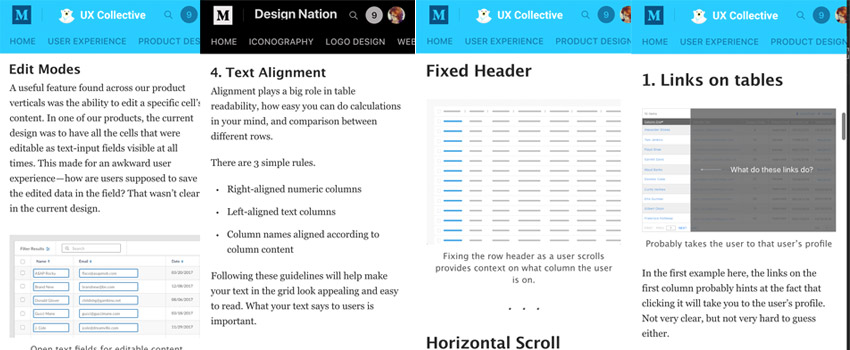 Essential resources to design complex data tables
I'm currently working on dashboards with a lot of complex tables to display and I keep searching for the same articles again and again so I thought I might as well put them all in a blog post and share them with you.
Here is my current list of resources when I need to design complex tables with a lot of data, interactions, etc.
Detailed articles and use-cases on specific table patterns
This article provides small GIFs of different types of tables (fixed header, horizontal scroll,  resizable columns, row style, etc) and then goes deeper into specific patterns like display density, visual table summary, pagination, hover actions, inline editing, expandable rows, quick view, modals, multi modals, row to details, sortable columns, filtering, searching, adding column, etc.
A lot of interesting examples on how to handle links on tables, actions, pagination and search.
This is a detailed use-case of table design with the main challenges of tables and a lot of visual examples again: pagination, edit modes, actions, customisation, truncation, usage of imagery and iconography, view indicators, expanded view, etc.
It starts with an introduction on how and when to use tables , what information to display and then gives details tips on tex alignements, sizing,  typography duplication and commons table patterns like bulk actions, group and sorting, pagination again, fixed columns
More generic articles to help you design better tables
The following articles are a little bit older and give general tips to design user-friendly tables:
Are they any interesting resource I'm missing? Please share in the comments and I'll add them to the article.