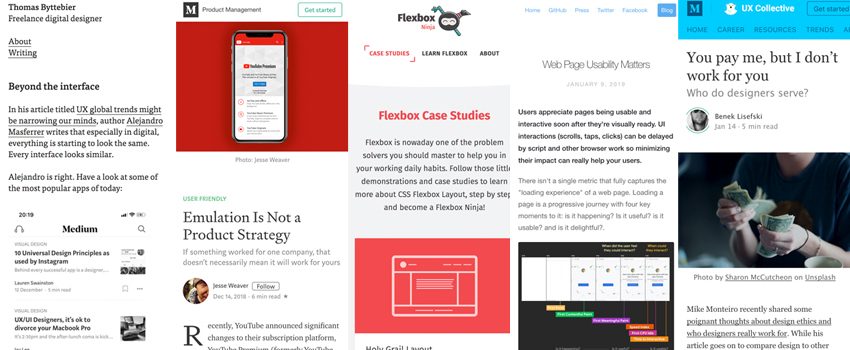 Pixels of the Week – January 27, 2019
Every week I share a list of curated articles, resources and tools about UX, UI and mobile design, Front-End development, HTML, CSS and more…
This week's selection: decentralizing the web, color palette tools, time management, product strategy, UI standardization, client/designer relationship, popular website redesign, interesting augmented reality concepts, web performance and UX, building better forms, flexbox layout ressource, etc.
You can follow me on twitter to get a dose of links every days.
TL;DNR the one you should not miss
#UI Design
Beyond the interface — "The UI layer is not where brands should differentiate. Consumers expect interfaces to be usable. And the shortest way to a usable interface, is standardization."
Interesting article
#Product Design
#Time management
#Form
Building Better Forms™ by not taking away affordances
#Performance
Web Page Usability Matters, using web performance metrics to measure and enhance user experience on your pages.
#UI Design
6 Interesting Concepts for AR Experiences – interesting yet scary for some of them, not a big fan of "your face is your social profile" and all the face recognition applications :/
#Centralization
"Re-decentralizing the Web, for good this time." Long but really important read and topic here!!
#Client
"You pay me, but I don't work for you" interesting short read on ethics and the fact that, as a designer, we work for the end user, the customer.
#Front-End
The Great Divide, a battle about what should be in term "front end", interesting ideas and arguments here
Inspiration, fun demos and Great ideas
#Comics
Silly comic on hiring a rock star
Useful tools and plugins that will make your life easy
#Color
Re: Pleasing Color Palettes – plenty of tools linked in the article to help you
#Flexbox
flexbox.ninja, a little site that will show you the power of flexbox for different layouts –