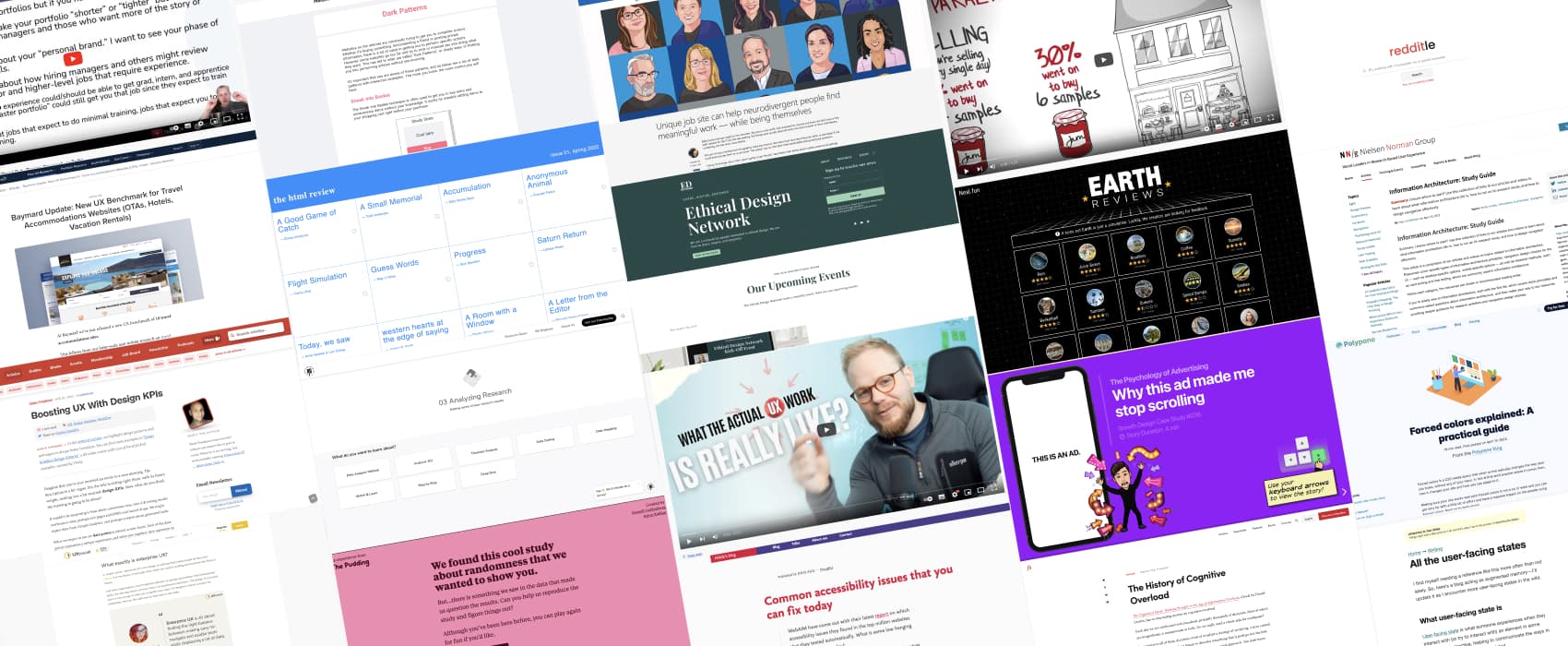 Pixels of the Week – May 8, 2022
Every day, I share on Twitter and LinkedIn a list of curated articles I read, resources and tools about UX Design, User Research, UI and mobile design, HTML, CSS, the web industry, some process, some inspiration, etc. This is an archive of everything I shared this week.
#Now – what I'm up to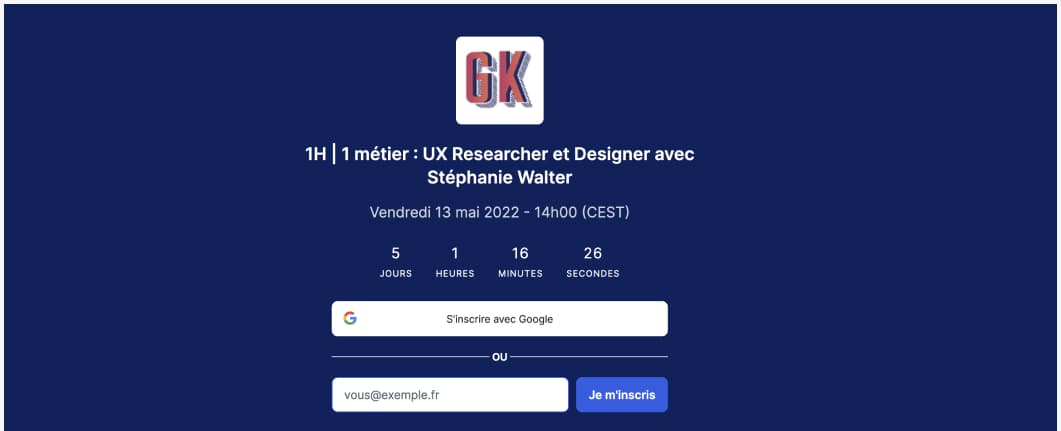 I discovered the "keep an empty chair in the meeting room to represent the customer" gimmick. Of course it comes from Bezos. I am so tired of people following blindly tech gurus. Want to make the customer the + important person in the room? Bring actual costumer data in there! This is why we do user research, in all its different flavors. You don't need fake empathy and guess work around an empty chair symbolizing the customer. You need actionable data to take actions. And budget to gather it. You can see my whole threat on that topic on Twitter and the Linkedin post
Also, if you speak French, Friday 13 May, 14:00 CEST I talk about my job as a UX researcher and design.  If you have questions in French, it's free and remote.
TL;DNR the one you should not miss
#Ethical Design
Ethical Design Network: an amazing project by @trinefalbe: a network for people interested in ethical design, to help share, inspire and empower people to make projects more ethical
Interesting article

#UX KPIs
Interesting read on UX and design KPIs, what they are, how to decide which to use and how to measure. These metrics can't exist in isolation; they need to be connected with the business goals
#Information Architecture
A big list of resource (articles, videos) to help learn about Information Architecture
#Psychology
"Why this ad made me stop scrolling" Interesting case study, but honestly, if I had seen that Balance ad designed as a todolist item, I would not have stopped scrolling because Instagram ads is mostly deceiving stuff that have nothing to do with the product (especially for games)
Interesting article on the history of cognitive overload. I love how people used to have the same fears with books that we have today with videos games or smartphones
Interesting study about randomness, but also (spoiler alert) about not being able to replicate psychological studies. Just because you read a New York Times headline about a study doesn't mean that its findings are replicable, so stay curious
#Accessibility
#Enterprise UX
What is enterprise UX, how is it different from consumer UX, what are a few best practices and a few examples of such tools? An interesting article on @UXtweak
on how to design products to help people do their jobs.
#States
If you need help designing elements at different states, here is a list of the "user facing states"
#Travel UX
Baymard Update: New UX Benchmark for Travel Accommodations Websites (OTAs, Hotels, Vacation Rentals)
Inspiration, fun experiments and great ideas

#HTML
The html review is an annual journal of literature made to exist on the web: poetry, fiction, non-fiction, graphic storytelling, and experiments that rely on the web as a medium
#Reviews
"It turns out Earth is just a simulation. Luckily, the creators are looking for feedback. ", those are real fun reviews written by people about some of earth features and it's hilarious
#Deceiving Patterns
A website that lists a few deceiving patterns to help you identify them as users. I wish people who build websites stopped using those, but often it's forced on them by higher people in the hierarchy
Useful tools and resources that will make your life easy

#Neurodiversity
This is a really interesting initiative: Unique job site can help neurodivergent people find meaningful work — while being themselves
#Reddit
If you really want to go down the rabbit hole, here's a search engine that will only search in reddit
#Accessibility
Twitter space captions default to your display language. So, if like me, you want to do a space with live captions in another language you need to change it: Settings and privacy > Your account > Accessibility, display, and languages. Via Deborah Edwards-Oñoro
#UX Research
If you are looking for reading lists on specific UXRD topics, check @DaBookmark. I recommend Analyzing research since this is often the hardest part for beginners
Videos and Podcasts
#UX Reality Check
The Actual UX Work is Not What You Think (or Were Told) it is, Interesting points in this video on how school projects are often super far away from the UX research and design work people then have to do in real daily UX jobs.
#Psychology
"The Paradox of Choice" book by Barry Schwartz explained in a small 5minutes sketchnote video
#Portfolio
Another great episode where Debbie Levitt @Delta_CX gives you tips and how to build a better UX researcher / designer portfolio that will help you stand from the crowed.