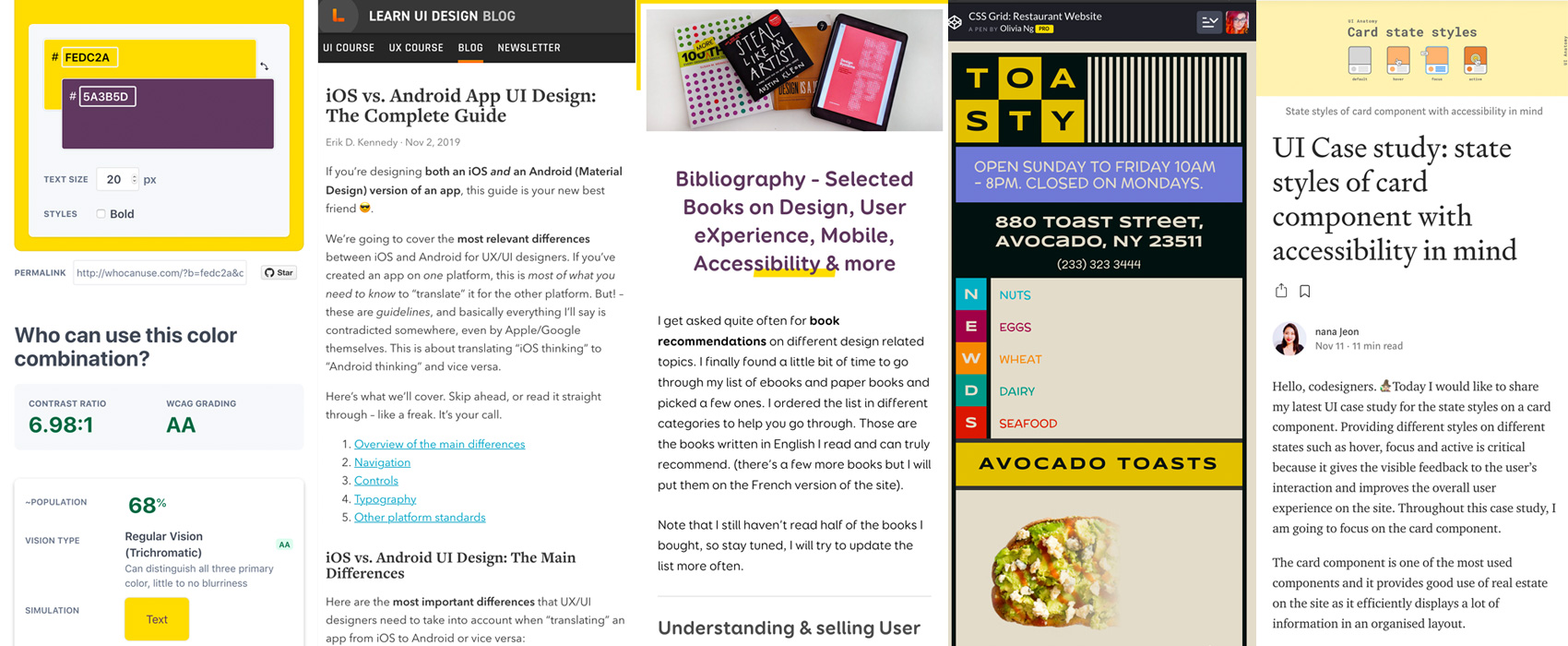 Pixels of the Week – November 24, 2019
Every week I share a list of curated articles, resources and tools about UX, UI and mobile design, HTML, CSS, the web industry, process inspiration and more…
This week's selection: color accessibility, cognitive biases illustrated, UX in big organisations, agile and UX, layout and alignments, design tokens in design systems, mobile design, UX "trends" for 2020, mobile dark patterns, UI card design, password poor UX, tips to switch to Figma, using CSS frameworks, HTML semantics, my selection of books on design and more, etc.
#Now – what I'm up to
Those were two super busy weeks!
Last week I attended Beyond Tellerand in Berlin, those where 2 amazing days of inspirational talks. If you are in Berlin I highly recommend Buchstaben museum, a small museum dedicated to sign letters.
I published the Bibliography of Selected Books on Design, User eXperience, Mobile, Accessibility & more on the blog. If you want to learn UX and design, there's a nice place to start. I also participated in a podcast episode of PolicyViz: I talk about dataviz and color accessibility.
I gave the first 2 hours of my workshop to startups to help them get started with UX design. Next 2 hours are next Friday!
Finally I also was having fun in Procreate. I drew a little "Long Tail SEO Dinosaur" for my friend Myriam.
TL;DNR the one you should not miss
#Accessibility
"Who can use this color combination?" a tool that shows you how different part of the population perceive your color combinations
Interesting article
#User eXperience
#UI and #Design
#DesignSystems #Designtools
#CSS
#Mobile #iOS #Android
🔥if you design native apps you need to bookmark this: "iOS vs. Android App UI Design: The Complete Guide"
#Information Architecture
Information Foraging: Why Google Makes People Leave Your Site Faster. The article uses the interesting metaphor of users being wild animals who hunt down content and information
#Data Protection
I'm 14, and I quit social media after discovering what was posted about me – "For my generation, being anonymous is no longer an option. For many of us, the decisions about our online presence are made before we can even speak." writes 14 yo Sonia Bokhari (a fantastic writer too!)
#Maths
"Braess's Paradox – Equilibria Gone Wild" (or why adding an extra road might not solve traffic issues)
#Conference #Talks
Writing winning abstracts, great advice to help you nail that talk abstract
#Book #distribution
The Pirate Book – A compilation of stories about sharing, distributing and experiencing cultural contents outside the boundaries of local economies, politics, or laws
BTconf special links
Those are the links I gathered in the Beyond Tellerrand talks. You can find all the talks on their Vimeo page.
#Illustration
What is Beauty? Anna Ginsburg's work on what is beauty and how it evolved across civilisation, culture and time is ground breaking
#Empathy
This looks nice: Communicating with Empathy
#Semantics
Conversational Semantics by Aaron Gustafson, I think every developer should watch this talk!
#Art #Punk
Burton Rast talked about the deep ties between punk rock and graphic designs. Check this for more on the topic
#SVG
Cassie has some interesting tricks to grab the main color from a webcam feed and use this to change a color in a cute SVG chameleon.
#Browser
CERN 2019 WorldWideWeb Rebuild: 2019 rebuilding of the original NeXT web browser
Inspiration, fun experiments and great ideas
#Lights
Lights – The city of Strasbourg (France) built a website that lets you take control of the lightning of the crane. Fully in the browser, you nevertheless need to be geolocated in Strasbourg (I think). Nice idea 🙂
#Fonts #Variables
Fun things you can do with CSS variables fonts.
#Games #logos
For the gamers out there: Video Game Console Logos
#CSS
CSS Grid Experiment: A Website for a Restaurant
Tutorials
#CSS
#Table #Responsive
"Making Tables Responsive With Minimal CSS" do nothing and let user scroll, use flebox to reshape the table in a list, a few interesting examples
Useful tools and plugins that will make your life easy
#Accessibility
Accessible Color Spaces, a tools to help you pick an accessible color combination
Do you want me to give a talk or a workshop for your company or conference? Are you looking for some help with UX research, design and strategy? You can take a look at my work and contact me.