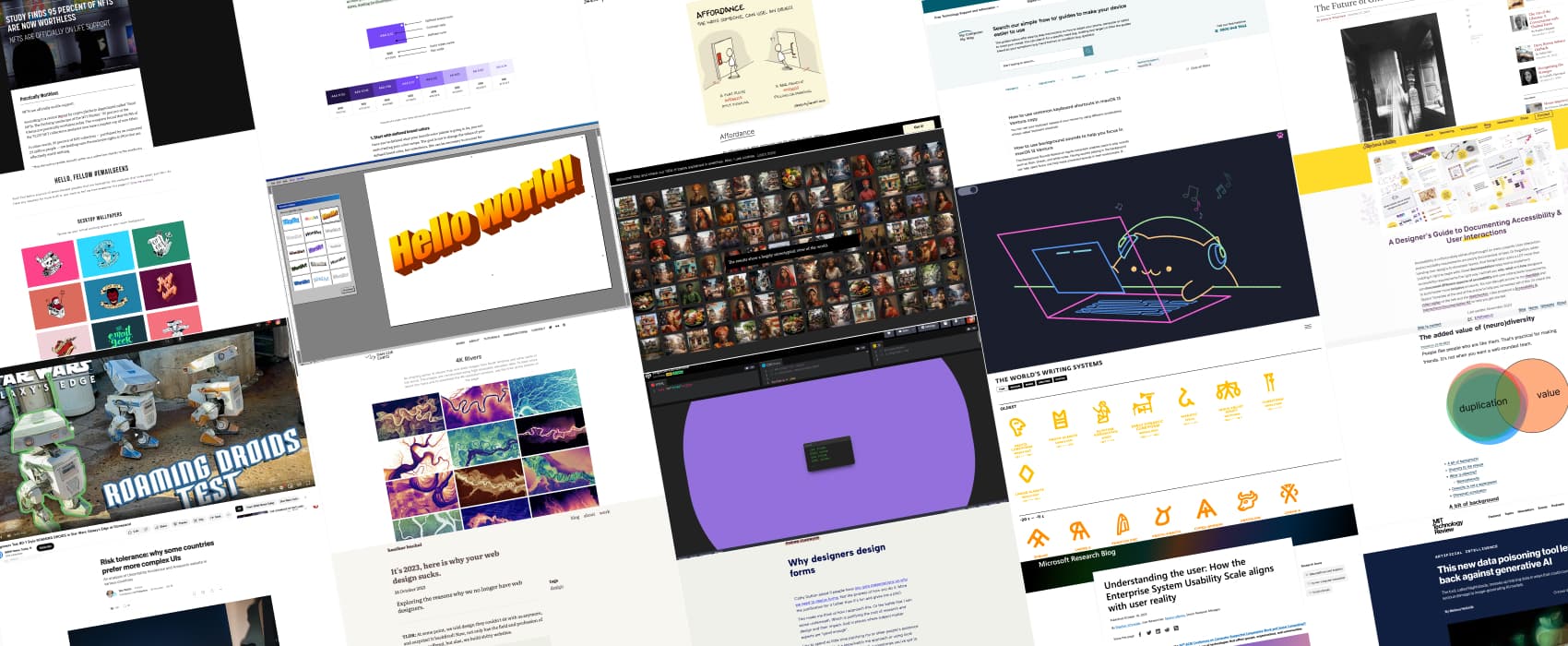 Pixels of the Week – November 5, 2023
AI stereotyping the world, cute Disney robots & a coding kitten assistant, meow!
On Twitter, LinkedIn, and Mastodon, I share curated articles I read, resources and tools about UX Design, User Research, UI and mobile design, HTML, CSS, the web industry, some processes, some inspiration, etc. This is an archive of everything I shared this week. And some extra links that I decided to only share for the blog readers. Also, subscribe to the newsletter to get notified when those are published!
Now: what I'm currently up to
It took 4hours, but here we go, I've updated my "Designer's Guide to Documenting Accessibility & User Interactions" article with the content of the latest version of my talk! And if you speak French, I've finally translated my cognitive biases cards to French. All the detail in "Découvrir les biais cognitifs : 60+ cartes et un atelier".(also, if you subscribed to the French newsletter you should have gotten an email with a coupon)
TL; DNR: the one you should not miss
Generative AI like Midjourney creates images full of stereotypes (15min) another round of western culture biases in the trained dataset of AIs.
Interesting articles that caught my attention
UX research and design
Accessibility and neurodiversity
Around AI
Curiosity cabinet: non-design/tech rabbit holes I enjoyed
Imagineers Test BD-1 Style ROAMING DROIDS in Star Wars: Galaxy's Edge at Disneyland nope nope nope, robots should not be allowed to be THIS cute, it's a trap, nope nope nope. Also, they kind of walk like geese which makes this even more adorable. Moar of it in a 1min demo.
Inspiration: fun experiments, beautiful art, and great ideas

Useful tools & resources
Tutorials
How to create a color ramp used in design systems  (8min) interesting small tutorial to help you build an accessible color palette using scales,by Katie Cooper
Latest news in the industry