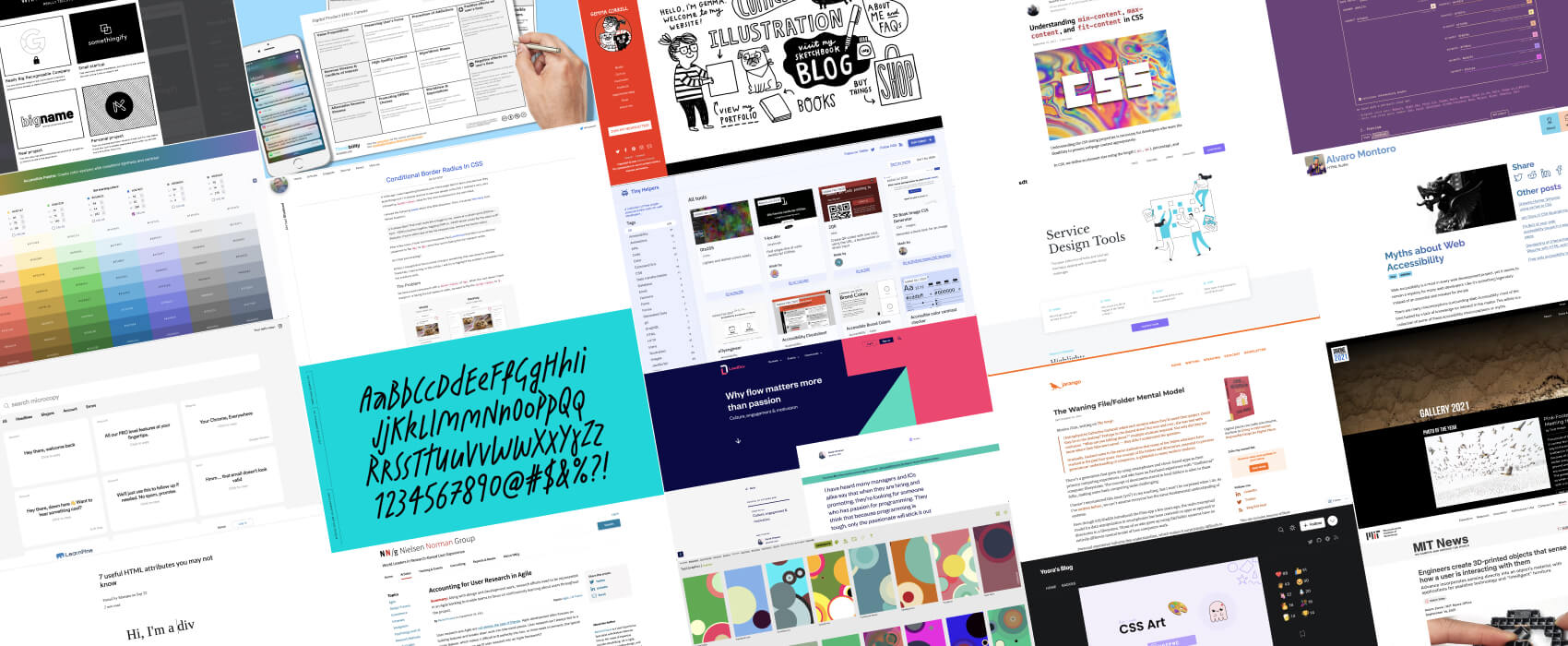 Pixels of the Week – October 10, 2021
Every day, I share on Twitter and LinkedIn a list of curated articles I read, resources and tools about UX Design, User Research, UI and mobile design, HTML, CSS, the web industry, some process, some inspiration, etc. This is an archive of everything I shared this week.
#Now – what I'm up to
What a busy week! This Tuesday I was live with Debbie Levitt for a "Ask me anything" session. It was a lot of fun. And this Friday I taught the students studying UX Design a Research at ULBruxelles how to build a user oriented mobile strategy. I'm also back to the office one day a week, it's a little big strange for the moment to be honest after almost 2 years remote. I also worked a lot with excel charts this week and was frustrated that you can't create custom color themes on excel mac. Turns you there's a trick: create one in powerpoint and save it, it will be available in excel 🙂
TL;DNR the one you should not miss


#CSS
This is a really clever trick using some max, min and calc in CSS to build a conditional border radius in CSS by @shadeed9
Interesting article

#Accessibility
Hello, let's debunk 10 Myths about Web Accessibility with @alvaro_montoro!
#Mental Models
The Waning File/Folder Mental Model, an interesting read on how some students don't understand the computer file model their teachers are so used to
#UX Research #Agile
Accounting for User Research in Agile, some tips by the NNGroup to help you conduct user research in an agile environment
#HTML
7 useful HTML attributes you may not know: multiple, accept, contenteditable, spellcheck, translate, poster (I did not know that one, quite handy for videos), download
#Management
"I don't believe you have to have passion to be a programmer, and was a bit sick of hearing the argument. So I spent some time unpacking with research how flow state is the reason that this is not a requirement and everyone is welcome in tech!" from Why flow matters more than passion, an excellent article by Sarah Drasner on dev management
#3DPrinting
This is cool and fun: Engineers create 3D-printed objects that sense how a user is interacting with them
#Disability #StockPhotos
Who decides how disability is represented in stock photography? Plus a few places to find disability stock photos
Inspiration, fun experiments and great ideas

#Typography
A cool case study on how they created the Culture Amp's handwritten typeface
#CSS
I always love it when people play around with the technology to build cool thinks: How I (@yosracodes) Make CSS Art
#Inspiration
Gemma Correll is a cartoonist, writer, illustrator. I really like the cartoonish fun style of her work, and the cute little pugs: website and instagram
#Portfolio
A fun comics on "what your portfolio really tells people"
#Storytelling
"Why The Suicide Squad Worked where Garbage Squad Failed" a great lesson of story telling and character building via an analysis of the new suicide squad movie.
#Photography
If you like pictures taken by drones, you will love this gallery
#Generative Art
Experiments in dynamic and generative design (make sure you check the other ones out as well)
Tutorials

#CSS
"Understanding min-content, max-content, and fit-content in CSS", I love those intrinsic keywords values that bring a lot of flexibility to the page content design
Useful tools and resources that will make your life easy

#Ethical Design
The Digital Product Ethics Canvas, a tool to help you minimise harm of digital products you are bringing into the world
#Code Theme
This is a tool @themerdev to create your own set of color theme for dev environments. I played around to build a purple yellow one for the terminal and my VScode
#UI Inspiration
A place to find inspiration for 2B2 and SaaS apps and services
#Microcopy
Another interesting site to find examples of short microcopy inspiration
#ServiceDesign
An open collection of service design tools and tutorials that helps dealing with complex design challenges.
#Documentation
A free chrome extension to help your make step by step guides with screenshots for documentation, FAQ, etc.
#Color
Accessible Palette: Create color systems with consistent lightness and contrast
#Tools
A collection of free single-purpose online tools for web developers and designers
News in the industry
#Security
Twitch got a leak, so you might want to change that password!
#Neurosciences
News from the field of Neurosciences: "Woman successfully treated for depression with electrical brain implant". This scares me a little bit but at the same time can bring quite hope to a still heavily stigmatized field of mental health