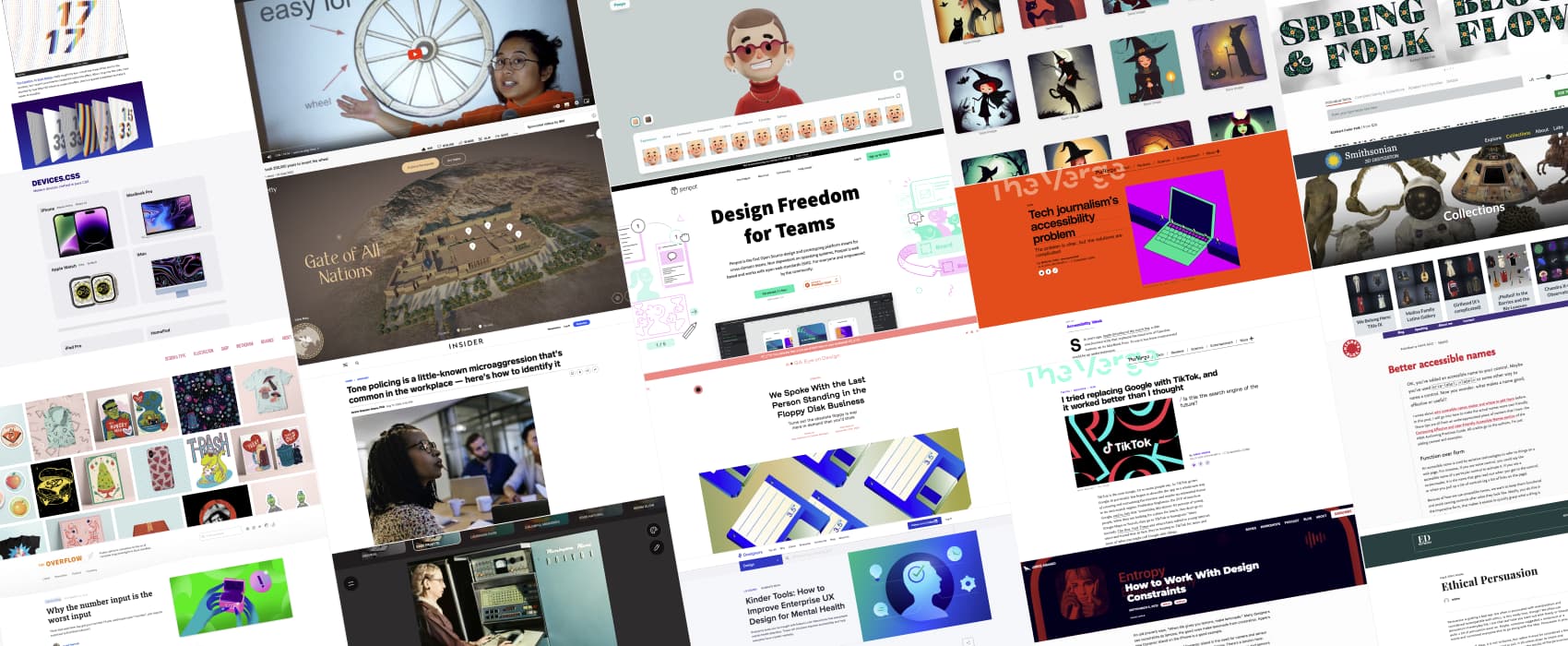 Pixels of the Week – October 2, 2022
Every day, I share on Twitter and LinkedIn a list of curated articles I read, resources and tools about UX Design, User Research, UI and mobile design, HTML, CSS, the web industry, some process, some inspiration, etc. This is an archive of everything I shared this week.
#Now – what I'm up to
If you speak French: I used to share an "introduction to HTML/CSS" PDF. But it's 5 years old now, a little bit outdated, so I removed the PDF. Instead, I put some links to nice French and English places to learn HTML and CSS.
In the fun side: I just started a following another kaiwaii drawing online class. Which means: expect me to post cute things on Twitter and Insta!! Like those little blobs.
TL;DNR the one you should not miss

#Design Tool
If you are afraid that Adobe buying Figma means you might not be able to afford it anymore, I played around a little bit with Penpotapp and it's quite a nice free and open-source replacement.
Interesting article

#Misuse
Really interesting concept of an "antipersona" who will help you anticipate how people might miseuse your product in order to prevent it. I need to add this to my "testing the misuse-ability of your product" workshop!
#Design
Quick short read on embracing design constraints
#Accessibility
Interesting article on how to create better accessible names. Also nice reminder that you don't need to use ARIA to provide names, <label>, <legend>, <caption>, <button>, <a> works perfectly fine too.
#EnterpriseUX #MentalHealth
A lot of very interesting ideas to help build better enterprise tools that take into account different aspects of workers mental health (via the amazing @This2ShallGrow newsletter)
#Semantics #Form
All the issues with input type=number and why you should only use it for actual incremental numbers (like quantities) and avoid the rest. Don't use if for credit cards for example (for mobile keyboard you can use inputmode numeric instead)
#Search Experience
Interesting article on how people start searching for certain things (like local restaurants) on TikTok instead of Google, and how good or bad those results actually are. I kind of related since I look for food recipes on Instagram.
#Tone Policing
"Tone policing is a little-known microaggression that's common in the workplace — here's how to identify it" Managers striving to create a workplace based on equity and inclusion must understand how tone policing silences members of marginalized groups and allows discrimination to persist.
#Ethics #Persuasive Design
Can you use some persuasive design techniques in an ethical way? Here is an interesting analysis based on the TARES framework: Truthfulness, Authenticity, Respect, Equity and Social Responsibility.
#Floppy Disk
This is amazing: the story of the last person doing some floppy disk business. This is where you learn some companies still need those. Yes, it's 2022, still. Don't under estimate technical debt. The fact that airplanes use them is scary though.
#Disability
Tech journalism's accessibility problem. Tech newsrooms need informed accessibility coverage. They need articles drawing from firsthand experience. It's a hard problem to solve, but one that should center disabled writers every step of the way.
Inspiration, fun experiments and great ideas

#Inspiration
Rockee Armendariz is a designer and illustrator based in Portland. I really like their colorful and fun style. Don't forget to check her instagram.
#CSS
Some modern devices made with CSS, because, why not?
#Online Exhibitions
Persepolis Reimagined is an online visual learning experience where you get to discover the city of Persepolis during the reign of King Xerxes, with 3d models, small videos and other interactive elements
#Curiousity
"Don't re-invent the wheel", okay, but did you know it took humanity super long to invent a working wheel that would let people carry stuff over a distance? This is an awesome video explaining why it's not as easy at you might think!
#3D
A collection of 3D digitalized objects from museums and beyond that you can explore in your browser for educational purposes
Useful tools and resources that will make your life easy

#AI #Color #WomenInTech
I found an online tool that uses AI to recolorize old black and white pictures. So, I recolorized a nice picture of Grace Hopper, for all of those who still thing women can't code, maybe the color version will help. Sadly enough, the AI detect Grace an an "actress". Well… algorithm bias anyone?
#3D #Avatar
A fun interactive 3D avatar builder (free to use for personal and commercial projects). By @ui8 Would still be nice to get extra skin tones though.
#3DModels
Okay, this is impressive: GET3D – A Generative Model of High Quality 3D Textured Shapes Learned from Image.
#Typography
First Batch of Color Fonts Arrives on Google Fonts: this is starting to get really nice and fun, you can do a lot of really cool things with COLRv1
#AI Generated Art
I had some witchy fun with DiffusionBee, a Stable Diffusion GUI App for M1 Mac
#Typography
I know it's fall now, not spring, but, seriously, how can I resist this gorgeous modern didone, high-contrast typeface color font with flowers? Meet Eckhart Color.
Tutorials

#CSS
Using CSS blend mode to create some really cool radial engraving filter and halftone filter effect on images
Podcast and Videos
#CSS
I never thought this would be possible with CSS. People often refer to the :has() pseudo-class as the "parent" selector, but there is so much more we can do with it. For example: checking for the presence of siblings to adapt the CSS accordingly
#Ethics #AI
40,000 recipes for Murder: so, what do you do when you built an AI that can help discover new medicines, but can also discover potential chemical weapons by switching a parameter in the system? Very interesting podcast
News in the industry
#D**k Pics
Instagram Working on AI to Block Unsolicited D**k Pics. Good, who's next @twitter? (Please note that any dp that ends in my DMs is sent to close friends for the purpose of thorough analysis and making fun of every single detail in it. You are warned)