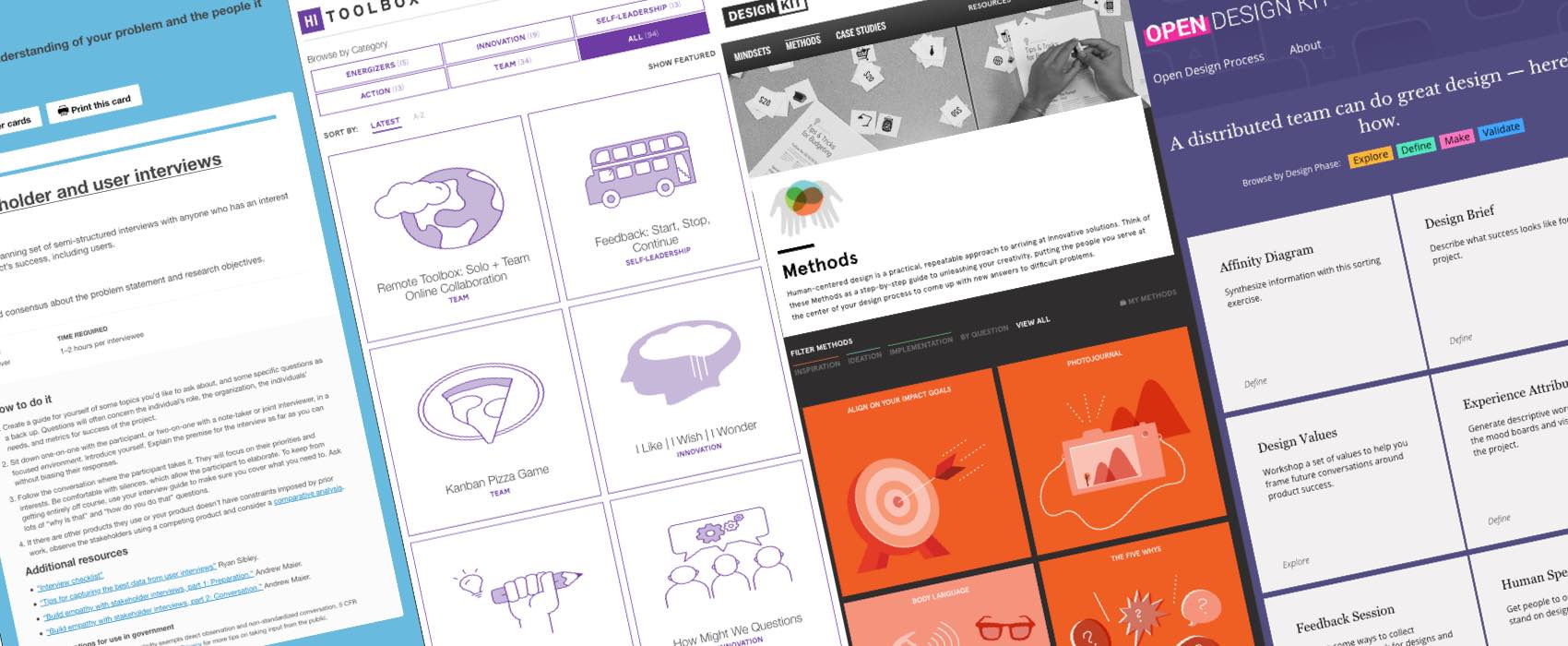 10+ Resources to Find UX Methods
Let's help you find the best method, tool and activity for your project!
Part of my job, as a user experience designer, is to bring people together to help them find solutions to the problems they are facing. Involving users, audience, stakeholders, partners, internal teams and developers from the start will help us build better products and services. There's a lot of methods available to UX designers and researchers to help strategize, observe, understand problems, ideate and validate solutions. This also means that it's quite easy to get lost and feel overwhelmed with the quantity of information available. That's why, I'm sharing with you my list of resources I use in my daily job to find the right UX method and tool for my project.
** Last update: September 2023** 
Find the right UX method that fits your project phase or need
Design Research Techniques
Designresearchtechniques.com is an online repository for participatory design techniques. The different techniques are organized according to 6 steps in a project lifecycle:  discover, define, conceptualize, design, implement and evaluate. If you are stuck in a particular phase, looking for methods and inspiration will definitely help.
Each method is presented with a short overview.  Some more complex methods get a full description page with problems, solutions, when and what to use the method for and the process of implementation.
You can contribute to this project by sending feedbacks to the person maintaining it (check in the burger menu on the left)
18F Method Cards
18F Methods Cards is a collection of tools to adopt human-centered design. The method cards are split in 4 different phases of a project: discover, decide, make and validate (plus an extra category for the fundamentals).
Each card presents the "what" and "why" of the method, how to use it, the phase and time required, plus examples and additional resources in case you need to read more about it.
The project is open source and you can contribute on github.
Open Design Kit
Opendesignkit.org is a list of different design techniques and methods to help you make and design openly. The methods are arranged in the 4 design phases: Explore, Define, Make and Validate. Each method has a specific description page with the tools needed, why and when to use it, who to involve, how much time it takes and how to do it.
"UX methods & projects"Airtable base
This airtable "UX methods & projects" base contains some UX methods (and some projects). Airtable has a lot of different sorting options and here you can sort those by lifecycle  and goal but also by different steps and phases of a project. Each card has notes, and information about how, when, who and why to use this method. The nice part is the "projects" linked to each method that show read examples of the method being applied.
UX Strategy Kit
The UX Strategy Kit presents and orders different user research and workshop ideas by project phase: strategize, observe, ideate, and validate (but also warm-ups for workshops). You can filter the methods by the number of participants and duration. Each method has a dedicated page, with a summary, step-by-step, what you need, and external resources.
The UX Cookbook
The UX Cookbook: is a notion collection with detailed guides for different user research methods (card sorting, diary studies, surveys, tree testing, user interviews, etc.). Each comes with time, how to prepare, ingredients, and directions, etc, just like recipes, to help you use that method.
Comparing different UX methods
Design method toolkit by Medialabamsterdam
Medialabamsterdam.com created a toolkit is a collection of design resources and methods to help design research, ideation and experimentation. Whether you need to define intentions, know your users, frame insights, find ideas and concepts or prototype and test, are in the research or creation phase of a project, filters will help you find the right method for you needs.
Each method is presented with tasks, the time it takes, when and why to use this and the output.
The toolkit methods are also available as small cards.
Design Kit by Ideo
The Design Kit method cards are step by step guides to help you unleash creativity and come up with new answers to difficult design problems. The methods are presented in 3 categories: inspiration, ideation and implementation.
The interesting part of the site is the "by question" filter. As suggested by the name, you can filter the method by different questions you might ask yourself during a project, like "how do I get started" or "what tools can I use to understand people?". This is a nice idea that makes finding the right method really easy.
Each method is detailed with suggested time, level of difficulty, materials needed and a step by step process.
You can sign up on the site to bookmark your favorite methods.
Service Design Tools
Servicedesigntools.org is an open collection of tools used to design process and complex systems. The site tools and activities are oriented towards service design but a lot of them can still be applied and used for product design as well.
The tools are displayed according to design activities, what kind of representation will be produced (aka type of deliverables), the recipients (who the activity is for) and the content of the project.
If you look for a specific method and just need some information on how to use it, you can quickly browse the tool repository.
Each tool has a small description, some references but no list of material or indication of how much time you will need. The really interesting part of the site are the case studies that go with the tools. Those really help understand the methods in context.
Find collaborative activities and co-creation tools to unleash creativity
Hyper Island toolbox
The Hyper Island toolbox focuses on small and bigger creative activities. You can browse them by categories and choose whether you need to inject energy into the process, unleash creativity and innovation, grow self-leadership, implement and drive change in an organization or build a strong team. You can also filter the activities by time frame and group size.
Each activity is presented with a step by step description with time frame, group size, facilitation level, comfort zone and material details.
Playbook for Universal Design
Playbook for universal design: a great place to find tools, methods, frameworks to include in your design process to build more inclusive and universal products and services.
The methods can be filtered by phases of the design process (double diamond), types (warm ups, create ideas, etc.). This also comes with tips to facilitate workshops and a set of "ability prompts" to help understand the impact of different disabilities when you design. Created by DTU Skylab
Gamestorming
Gamestorming is a blog that brings together a list of tools, games and strategies for exploring new ideas, testing hypotheses and generating new insights and results.
You can navigate the different categories of games based on what they are for: opening, fresh thinking and ideas, team building and alignment, vision and strategy meetings, etc.
Each game is presented in a blog post with objects, number of players, duration and everything you need to use this in a workshop.
The about page also has some really interesting videos on gamestorming and co-creation and there's even an e-book you can buy (and, hum, read) on amazon.
UX Lex – Curiosity Tank
Our industry has a lot of methods and jargon, sometimes having a place to find vocabulary is important
UX Lex is an evolving, interactive glossary of UX research terms. The definitions are created together with 80 other designers in the field. They define tools, methods and any vocabulary related to UX design. Each term has some links to extra articles and videos to help you dig further.
Some UX checklist tools
There's also a few interesting tools that fall under the category "UX Checklist". The idea of those tools is to let you check a few methods to help you plan for a project and make sure you don't forget something.
Here are a few UX checklist tools:
Updates with other interesting resources
Need some templates for some methods?

If you need some templates and resources for some of those methods, go and check my Expert UX Templates and Resources shot. You will find help for user interview, accessibility documentation, UX for startups, etc.
What about you?
What about you? Are there any sites or resources that you use to find the right UX method and not get lost and overwhelmed by the quantity of tools? Ping me on twitter, linkedin or send me an email to share 🙂