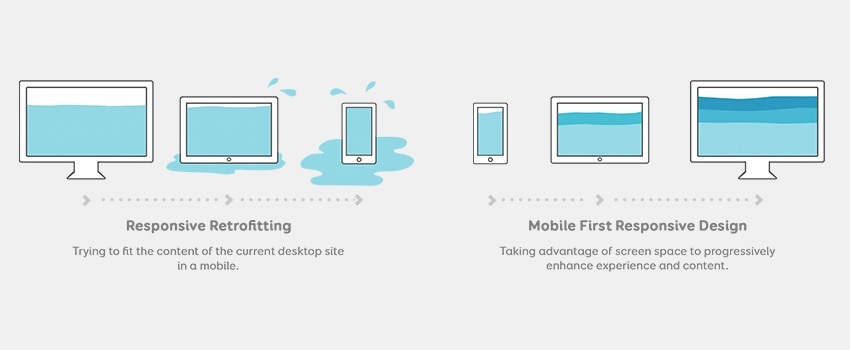 [Freebies] Responsive Retrofitting VS Mobile First Responsive Strategy Illustration
The word "Responsive" has today a lot of different meanings depending on the person you ask. In his article  Responsive Strategy, Brad Frost explains the difference between Responsive Retrofitting and what he calls Mobile First Responsive. Design.
This first one is, I quote: "the process of taking an existing desktop-only website, and making it responsive after the fact." Basically what we have been doing the past few years when there was no full redesign on the table.
He defines Mobile First Responsive as "creating an interface that addresses the constraints of mobile (small screen, low bandwidth, etc), then progressively enhances the experience to take advantage of available screen space, features, and more." This is a more future, performance and usability proof solution but it also often requires a full redesign and beeing able to rebuild the whole site from the ground.
I really liked his approach and the images he used, so I decided to create some illustrations to use for my lessons at the university and conference slides. You can download those illustration here:
Download the responsive retrofitting illustration
Responsive Mobile First Strategy Illustration created by Stéphanie Walter is licensed under a Creative Common Licence Attribution-ShareAlike 4.0 International (CC BY-SA 4.0)
You are free to: Share — copy and redistribute the material in any medium or format, Adapt — remix, transform, and build upon the material for any purpose, even commercially. You must give appropriate credit, provide a link to the license, and indicate if changes were made
Do you want me to give a talk or a workshop for your company or conference? Are you looking for some help with UX research, design and strategy? You can take a look at my work and contact me.