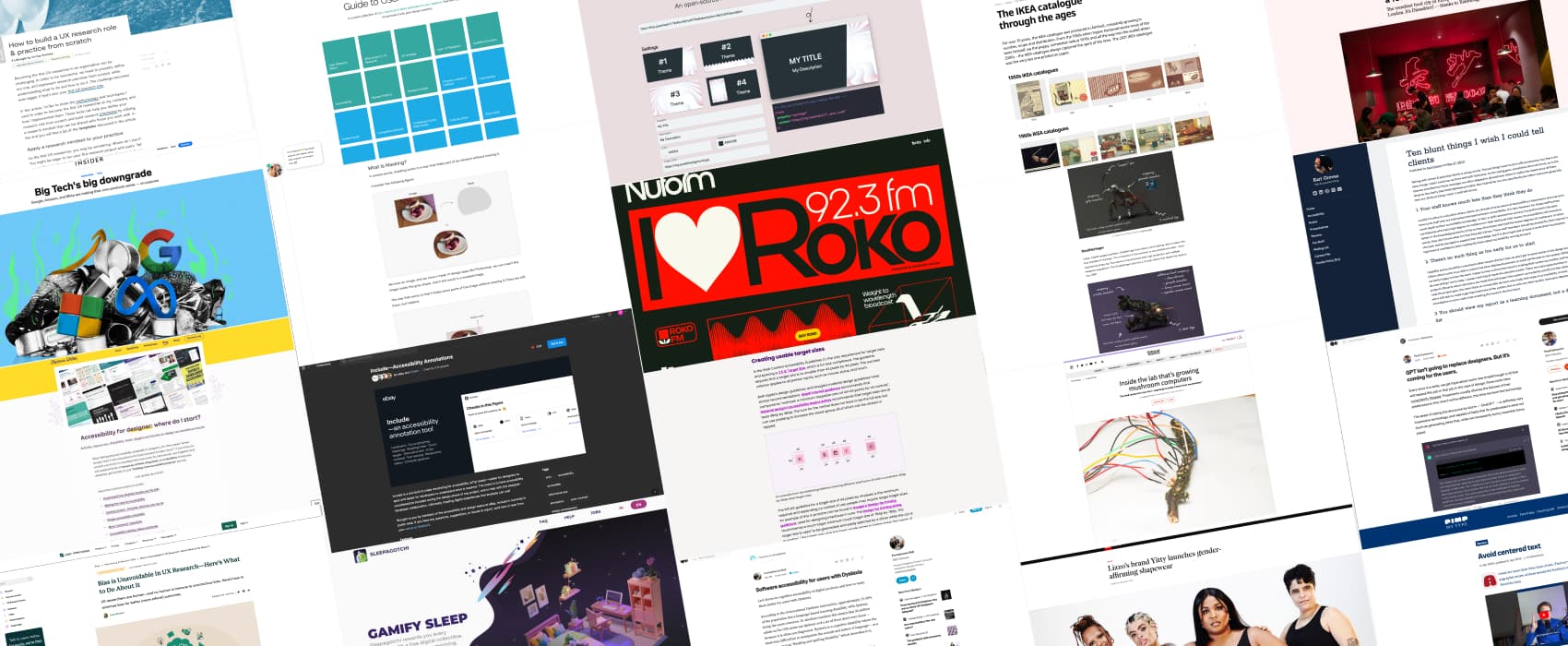 Pixels of the Week – April 10 , 2023
Accessibility annotation plugin, mushroom computers and CSS masking
On Twitter,  LinkedIn, and Mastodon, I share curated articles I read, resources and tools about UX Design, User Research, UI and mobile design, HTML, CSS, the web industry, some processes, some inspiration, etc. This is an archive of everything I shared this week. And some extra links that I decided to only share for the blog readers. Also, subscribe to the newsletter to get notified when those are published!
Now: what I'm currently up to

In case you missed it: I put together (and will update) this list of resources, articles, blog posts, and checklists to help you, designers, start building more accessible products: Accessibility for designer: where do I start?. I also updated my Accessibility & Interactions Documentation for Designers Checklist, reworked the structure which means, I will eventually need to update my talk (and article) to reflect those changes. I'm also preparing a "mobile native app" specific version. If you bought it before April 1st, you should have received an email with a link to download the new version! Check your mailbox.
I also finished some mini space monstera paper plants this weekend. It was fun but the glue it not optimal on the iridescent PVC for small pieces, I might need to find a better glue.
TL; DNR: the one you should not miss

Include – Accessibility Annotations: a useful Figma plugin to help you annotate landmarks, focus groups (native), headings, reading order, alternative text (for images, it's missing icons for now), check touch target, color contrast, create de 200% version of your page, document complex gestures (native) and more. It's not perfect yet (and there is a feedback form) but it's honestly the most advanced plugin I found so far. So, big kudos to the ebay team!
Interesting articles that caught my attention

User experience and product design
Some accessibility interesting reads
On Machine learning and AI
Life on the Internet:
Curiosity cabinet: non-design/tech rabbit holes I enjoyed

Inspiration: fun experiments, beautiful art, and great ideas

Useful tools & resources that will save you time

Videos
Tutorials

Latest news in the industry
What's New in Figma: some cool features were launched this year in figma, the multi-select search saves me so much time