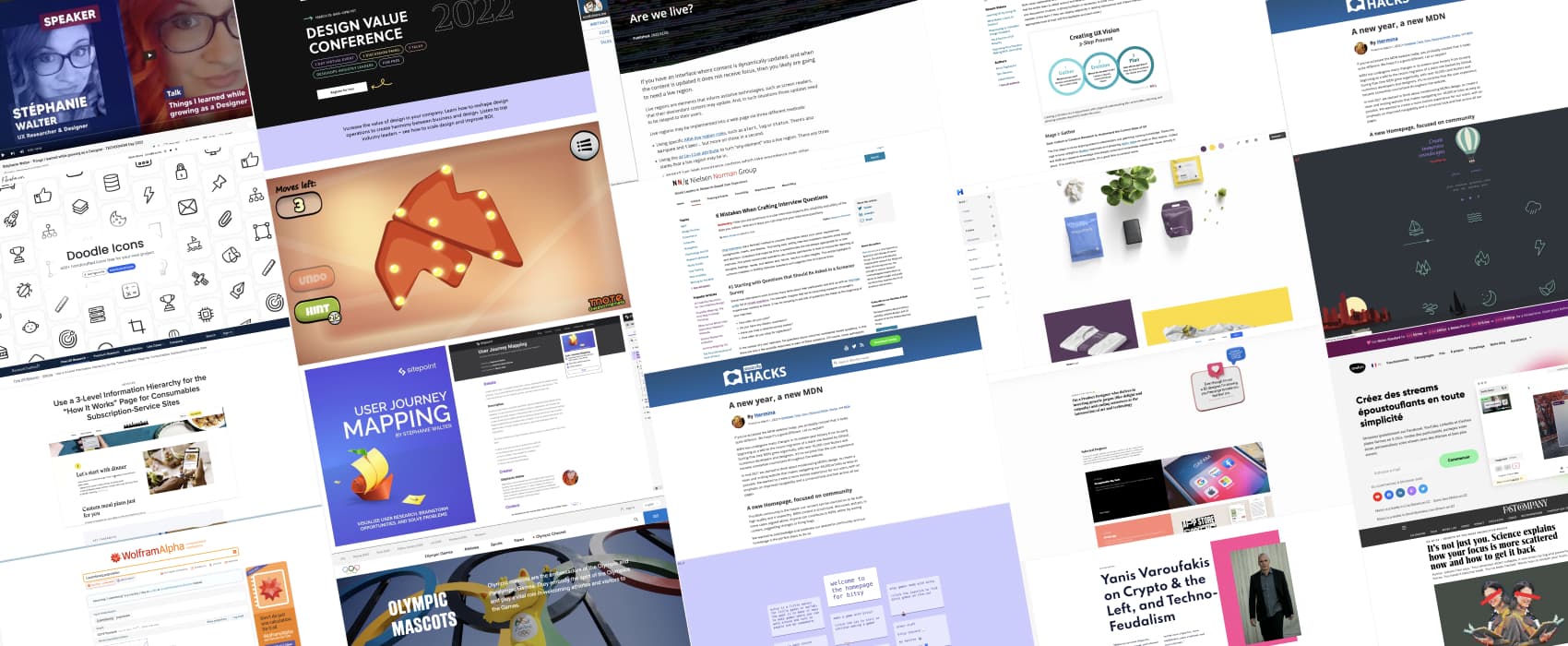 Pixels of the Week – March 13, 2022
Every day, I share on Twitter and LinkedIn a list of curated articles I read, resources and tools about UX Design, User Research, UI and mobile design, HTML, CSS, the web industry, some process, some inspiration, etc. This is an archive of everything I shared this week.
#Now – what I'm up to

Big announcement: I wrote a 5 chapters ebook on User Journey Mapping
You can also watch the replay of my talk "Things I learned while growing as a Designer" on YouTube.
TL;DNR the one you should not miss

#Organisation
When to delegate, when to say no, an interesting article and matrix by Lara Hogan
to help you prioritize your work
Interesting article

#Portfolio
This "honest UX portfolio" made me giggle this morning (via Kate Drummond ).
But at the same time, honestly, if you want a UX designer portfolio to be efficient, can you really build something super original?
#User Interviews
6 Mistakes When Crafting Interview Questions How you ask questions in a user interview impacts the reliability and utility of the data you collect. Here are 6 ways you can improve your interview questions.
#Information Architecture
"Use a 3-Level Information Hierarchy for the "How It Works" Page for Consumables Subscription-Service Sites", a long and interesting case study of what works and doesn't if you work on consumable subscription sites (like meal box)
#UXvision
Create vision statements using a collaborative, research-backed process to increase team members' understanding and alignment of UX efforts.
#Accessibility #Aria
Are we live? A great explanation of what the aria live regions are and how to use those by @scottohara
#Attention
It's not just you. Science explains how your focus is more scattered now and how to get it back. 'Your attention didn't collapse; it was stolen by big and powerful forces. You haven't become weak. You've been hacked.' Here's how to reclaim it
#Cryptocurrencies
"Yanis Varoufakis on Crypto & the Left, and Techno-Feudalism" a long, complex I'll admit but super interesting article on crypto, capitalism, video games and so much more and how this will make our society more oligarchic
Inspiration, fun experiments and great ideas

#Game
A fun game in the browser where you have to slice areas to separate the little bubbles
#Sound
Another one of those "mix different background sounds to concentrate" ambient noise tool that works directly in the browser
#Mascots
There's a page dedicated to Olympic mascots over the years. Some of those are, hum, uncanny?
Useful tools and resources that will make your life easy

#Color
Here's a nice color palette generator that gives you a preview of what this palette could look like on a brand, a website, as a gradient, illustrations, etc.
#Icons
Aww those 400+ doodle style icons are really cute
#RetroGaming #Tool
If you want to make a cute, small retro pixel art video game where you can walk around and talk to people and be somewhere, this little tool is for you: Bitsy
#Computational Intelligence
This is a fun tool: Compute expert-level answers using Wolfram's algorithms, knowledgebase and AI technology
#Streaming Tool
I tested Melonapp as a speaker for one of my latest YouTube live and it's actually quite good. Nice alternative to Streamyard if you need one
Conferences and videos
#DesignOps #Conference
A one day online free conference on design ops on March 29, 2022
News in the industry

#MDN
Yeah MDN (the resource for developers about specs and usage) got a nice little redesign