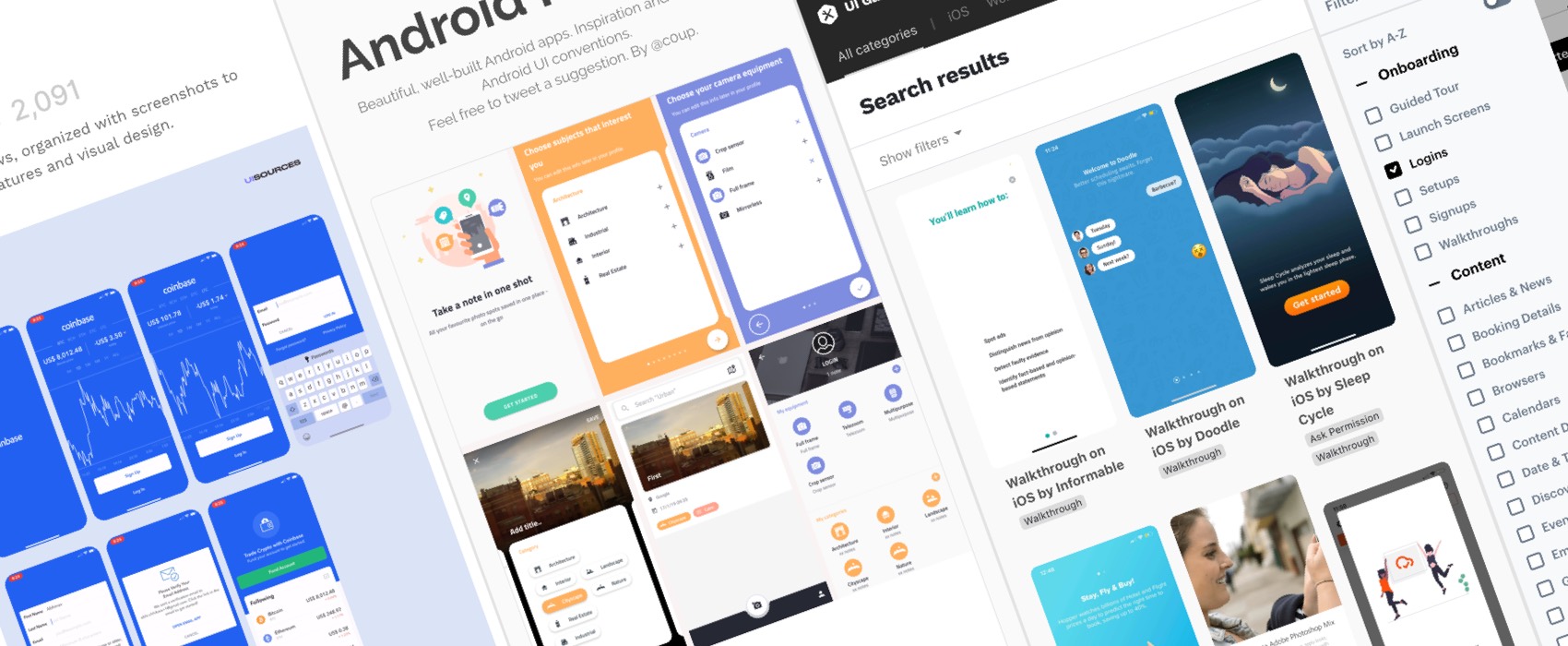 15+ Expert Resources For Mobile UI Inspiration: Patterns, Components and Flows
UI inspiration is a big part of our process as designer. We like to share our work for feedback, think outside the box, iterate to offer different design solutions. But it's not always easy (especially if you work alone). Wether you are stuck on a project or are just looking for some ideas on "how do other designers solve this UI problem", finding UI inspiration is quite important. Many designers go on Dribbble and Behance for inspiration. But many shots and showcases on those sites tend to be either not super detailed, or idealistic eyecandy UI of mobile apps that will never exist.
If you are looking for some "real" mobile app inspiration, there's quite a few resources that specialise in mobile UI patterns, mobile components, mobile flows and app category. Here is a selection of sites I use a lot when I design native Android and iOS apps with my honest review about what I like and don't on those sites. I will put them all here so that I don't need to go through my bookmarks every-time I need them. Feel free to add extra resources in the comments.
Mobile inspiration sorted by UI patterns, type of view and components
On Mobile Patterns, you can navigate by different UI patterns or chose to navigate only Android or only iOS designs. Some apps are presented static images but some other are presented with videos of the app. This way you can also see interactions and UI animations on top of the different steps of the pattern process. The search at the top makes it easy to find anything you are looking for.
Don't let the generic name fool you, this site is also dedicated to mobile UI patterns. You navigate the content from the 5 big "categories" on the home page. Then you enter some live examples of the pattern with explanations of the problem and the solution. I like this particular website because it does not only concentrate on inspiration and eyecandy but explains design theory behind the patterns. It could almost be used to teach people about those different patterns.
UI Garage  is a generic site for UI inspiration. You can use the filters on the homepage to target specific mobile platforms (iOS, Android) and then browse the content by UI pattern/process categories. Most detailed pages only offer a single screenshot so it's a little bit complex if you want to see a whole flow but some pages have quite a few screenshots for the same patter or process.
Mobbin (free with login)
You need to create an account on  Mobbin (but you can use Google, Facebook or Twitter single sign in). Once you are logged in, you can browse iOS UI design and then filter by app category (Business, Education, Entertainment, etc.), by UI patterns (Login, checkout, etc.) but also by UI elements (tab bars, buttons, cards, etc.). Even better: you can combine the parameters. The search is quite useful as well.
On Android UX, you can browse through different screenshot of Android apps ordered in components / UI pattern categories
Pttrns (free for 20 screenshots, then paywall)

On Pttrns, you can browse through different UI pattern categories and through operating systems. There's unfortunately no search, but the site has a strong system of UI pattern categories and tags which make it nice to browse. The screenshots can also be ordered by date if you are looking for accuracy and recent inspiration. The free version will only display you up to 20 screenshots I think, you need a premium account ($5) to access all the library. Once you've opened the details of an app it shows you all the screenshots. You can then browse the UI pattern categories available for this specific app on the left which makes it a little bit confusing to use.
Update April 2021: Wave is no longer maintained as a tool to search for patterns but you can still navigate some screenshots via different categories, there's just less content than there used to be.

Mobile inspiration for specific flows
UX Archive lets you browse iOS apps examples by user tasks / user flows. This is really nice since most of the time, inspiration websites only show one screen. Here you can see the whole flow  screen by screen for a specific user task.
Pageflow is a site that showcases different user flows of popular products. You can browse the mobile section to find video examples of specific user flows for mobile apps. You can't combine search for mobile and a specific flow though so you will have to go through the whole page. Some of the videos are free but most of the content is behind a $8.25 per month paywall.
UI sources (free for browsing, pay to use navigation / filters
UI sources used to let you browse mobile apps through different UI patterns/interactions categories. If you go in the "screenshot" section it shows you different step by step product flows (creation, onboarding, etc.). Now there's a paywall on every link in the sidebar. So you basically either browe manually or pay a yearly / quarterly subscription (up to you)
Mobile inspiration sorted by app category
On Mobile Mozaic you either navigate by app categories  (books, game, lifestyle etc.) or by UI patterns. The category is quite convenient if you are working in a specific market and are looking for competition/inspiration. The UI pattern navigation exists but it's quite useless: once you open an app, the detail page shows you all the screenshots for this app. So this is not super useful for specific patterns. The copyright on the site is 2016 but the RSS has some entries in 2019, still, many of those screenshots might be outdated. Still good for the app category part.
Scrnshts lets you look for iOS apps by app type and shows you the screenshots of those apps on the Apple Store. If you are looking for UI components and patterns it can become quite annoying since most apps now create some sort of staging with background and text but it still helps you find apps in a specific domain.
There's no search or tags on this tumblr, just some nice android app inspiration to scroll through
Mobile icon inspiration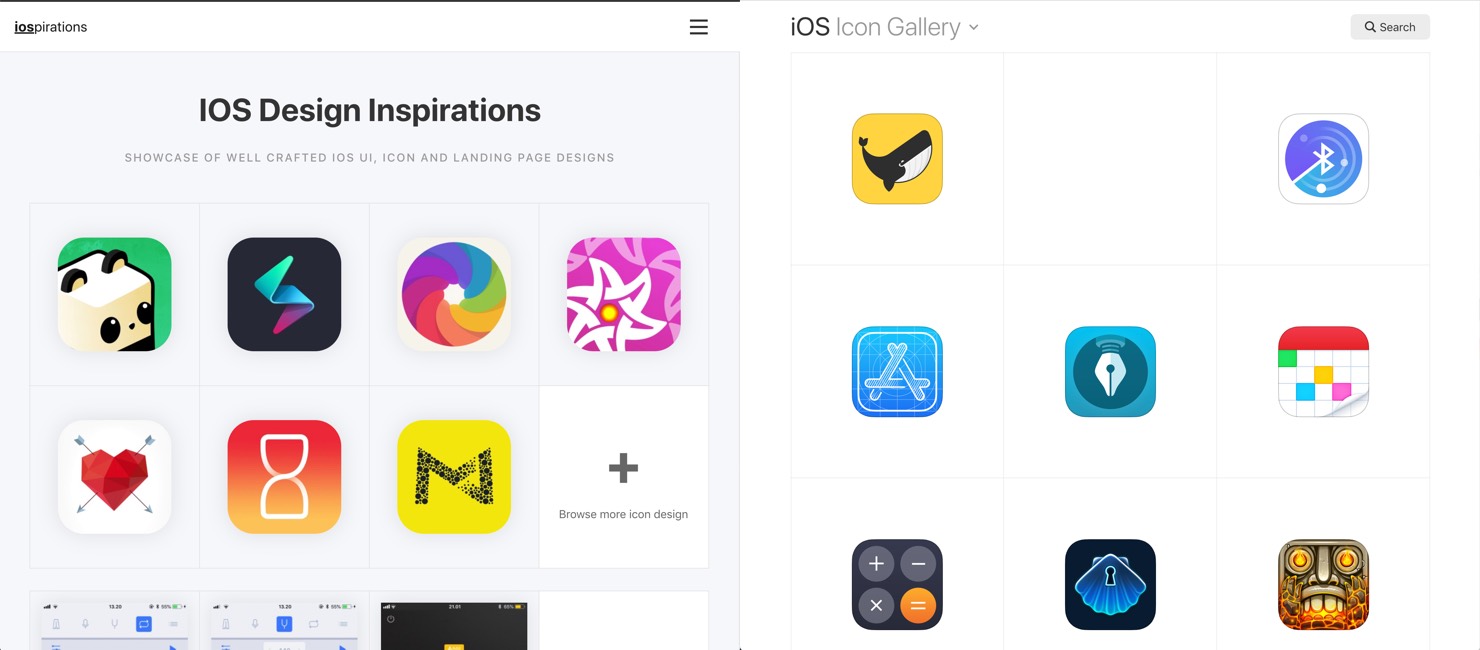 If you are looking for iOS (or Mac) icons as well as app landing page, iospirations.com  is the site you need. You can use the tag system to help you find what you need. You can also look at iOS Icon Gallery that shows some beautiful iOS app icons.
A few old resources that don't look super up to date