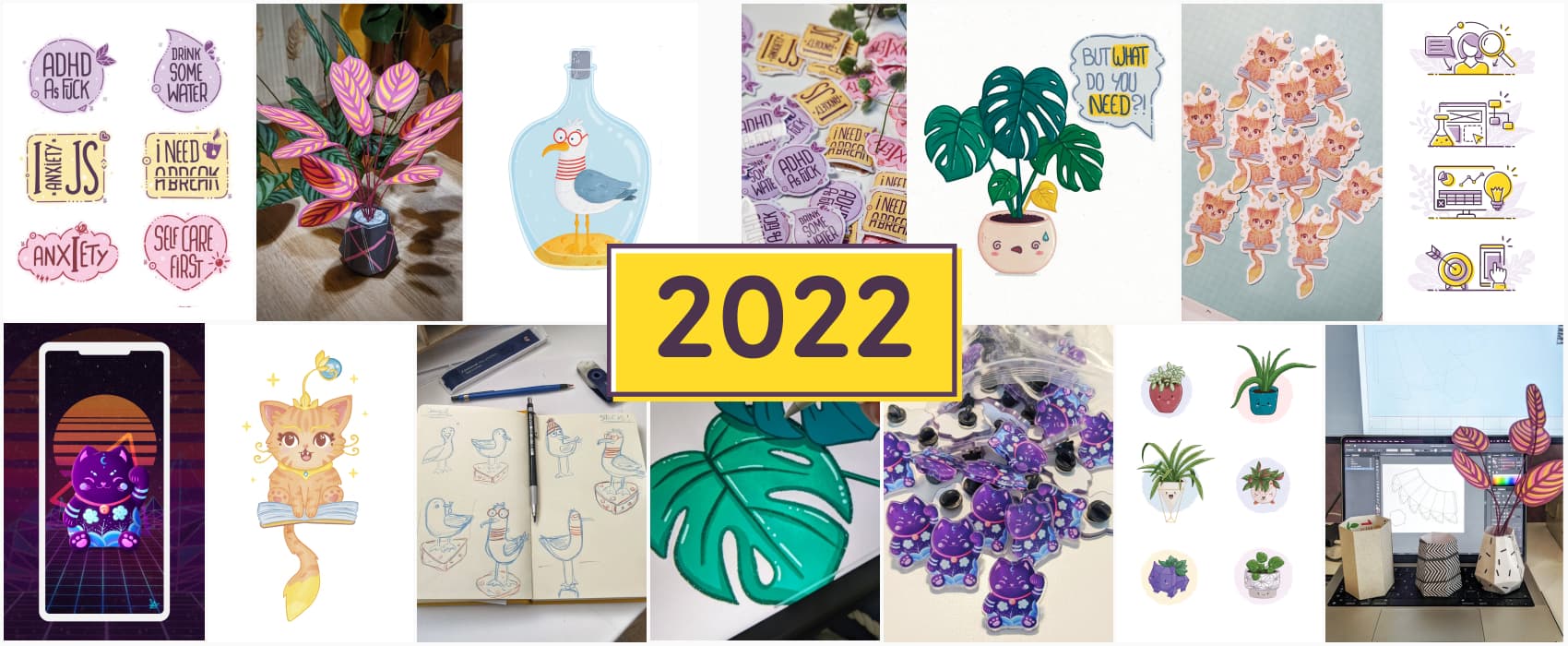 2022 creative year in review
The craft, creative & other adventures part
This is the second part of my 2022 year in review. Here, we will focus on the craft and creative part of the year. If you follow me on Twitter (or mastodon), you might have seen some of the things I created over the years. So we have: some pictures and a little bit of behind the scene process for my illustrations, holographic stickers, bottle stickers, postcards, DIY stickers, sticker cutting and paper plants and food, all the cool stuff in one place! You can check the other part if you are interested in what I did professionally (and in my brand new shop for templates, tools and resources)
Illustrations for my site's homepage

I needed a new section for my homepage dedicated to enterprise UX. So, in June (in front of the swimming pool hehe) I recreated all my homepage illustrations: UX Research, UX & Product Design, Enterprise UX and Mobile Strategy. You can find the whole process on Twitter: I usually start with a paper Sketch of multiple ideas, and select the ones I'm happy about. I usually go directly from paper to Illustrator when I know I will need vectors. But for this one, I wanted to test proportions so I started with a colored draft in Procreate. Then I imported the draft to Illustrator iPad and drew the actual vector lines. Last step was to add them to the homepage.
Promoting accessibility – illustrations, holographic stickers and postcards

I also illustrated some of Marie Guillaumet's metaphors during the accessibility training and created a set of 5 illustrations to understand and promote accessibility. Those ones' process was faster: I directly drew them into procreate.
I created a specific "rainbow of disabilities" illustration and ordered some holographic stickers from Stickermule (that were all given away by mail and at a conference). I also ordered my illustrations as postcards for conference swag!
Kawaii Plants (death note) – illustrations and sticker sheet

In 2021 I went through  a kawaii illustration course (of course I bought new ones in 2022, domestika's marketing is too tempting). I drew my plants in a Kawaii style, in an attempt to keep them alive, somehow. My partner was joking that I'm basically creating a plant death note. That turned out to be true, only one of those I drew is still alive. Some might have been replaced by "the same plant" so that none notices. In the end, I created some individual "hand made" stickers and I had them printed on sticker sheets.
Retro synth wave Manekineko – illustration, pins and postcards

I explored a fun retro synth wave style, and drew a neon colorful Manekineko phone wallpaper for my friend Myriam. You can find the whole drawing video on Twitter. They turned out great, so I also created some pins with them, and printed those as A5 postcards to decorate the flat.
"What do you need" Monstera – illustration and postcard

In the middle of the year, my monstera started getting some yellow leaves. I had no idea what was going on, some forums said too much, some not enough water. This inspired a "but what do you need" monstera illustration that I printed as postcards.
Steve the Seagull – illustration and bottle sticker

Google used to give animal names to their algorithms. Myriam and I decided the next one should be named Seagull. And I drew "Steve the Seagull", a seagull on a cheese in a bottle. You can check the whole process on Twitter. I gave Stickermule's clear stickers a try and turned Steve into a bottle sticker!
Stickers, stickers, moooar stickers!!
I used (and still do) order stickers from stickermule. But this year, I decided to invest in some waterproof vinyl and print my own stickers.
My first vinyl home made printed stickers, cut by hand
My first attempt was basically "print all the ones I already have". I then cut them all by hand. And it took forever. I ended up sending those, with a couple of other cool swag to some friends and followers.
The Mental Health laminated Stickers (still cut by hand)

Myriam asked me to create a "I anxiety JS" sticker. And I decided to do a whole serie of mental health stickers, including a ADHD as Fuck, Anxiety, I Need a Break, Self Care First and  Drink Some Water ones. You have the whole process on Twitter, and I made a video showing the whole process including lamination. Those are again, hand cut!
Mooooar laminated stickers!

At this point, I mean, things escalated quickly. I have a lamination machine, so I invested in higher quality vinyl. I also got some matte lamination pouches to try out. To test those out, I printed a few more models: a matte version of the mental health ones, and some rainbow of disabilities and my homepage illustrations. Because, why not?
The Silhouette Cameo Cut stickers
After cutting the 2 last sheets of stickers by hand and hurting myself, I decided it was time to invest in a cutting machine. I already had my eyes on two models for the last 6 months. After a few extra weeks of "watching all the youtube tutorials I found comparing cricut and silhouette", and testing both softwares, I settled for the Silhouette Cameo 4, as an "end of the year" gift to myself.
Since I laminate 2 sheets at once, I needed 2 A4 to start playing.

I finished my Orange Yuumi (League of Legends) illustration and decided it would be a perfect first sticker. And then, I wanted to make bigger, cleaner stickers of my portfolio illustrations for the second sheet.  I documented the process on Twitter.
Prepare the file in the Silhouette software. Since it's print and cut, I lose a little bit of space on the paper, so the game is to put as many cats and stickers as possible on the sheet.
Then print, and laminate
The cutting part is the fun one. I stayed watching the first cut that lasted 4 minutes. And the ultimate satisfaction of removing the paper!
I made a video of the Yuumi making of and a video of the portfolio sticker ones.
Neon Calathea Paper Craft

This is a brand new area I'm exploring. The silhouette cutter can cut more than just sticker vinyl. So, I decided to give paper craft a try. I started with some "basic" cutting, just to see how it goes. Since I kill many plants, I wanted to create a calathea that doesn't need watering and can't die. The whole process is on Twitter. You can also check the video of the making of on Twitter and Instagram
Other cool adventures

Aside from all that, in non special order
I kept experimenting with food, you can find a lot of pictures on Instagram (I dedicated a highlight to that)
I kept having awesome bike rides in Luxembourg, especially during the summer
I was able to get over my fear of COVID to go back to the pool, yeahy
I adopted a Stephania Erecta and watched her grow and go to sleep. See you in spring my dear. The plant collection also grew with a Crimson Queer Hoya and some other new cuties
I bought a flat with my partner. I won't go into the details of the whole process, but I can sum it up as "very shitty user experience, from banks to insurances and all the way in between". I got my own office that  we will eventually redecorate (that pink is yurk). But, we have time.
I had a lot of fun on Tiny Tina Wonderlands, I started playing Stray (but didn't go far yet), and we finally reached Master on League of Legends Wild Rift, hehe.
And for 2023?
Well, that's a lot. But, I already have some cool things planned for this year:
I want to explore more paper plants, build more models and have more fun with cutting
I'm already planning on printing my own holographic stickers, I have the paper I just need to decide on a drawing
I might sell some stickers online. Not sure if it will be Etsy, my shop (but for now it's dedicated to templates, so it's tricky), or some place else. We'll see.
The professional part
If you enjoyed this, you can also check the professional part (with conferences, workshop and more)