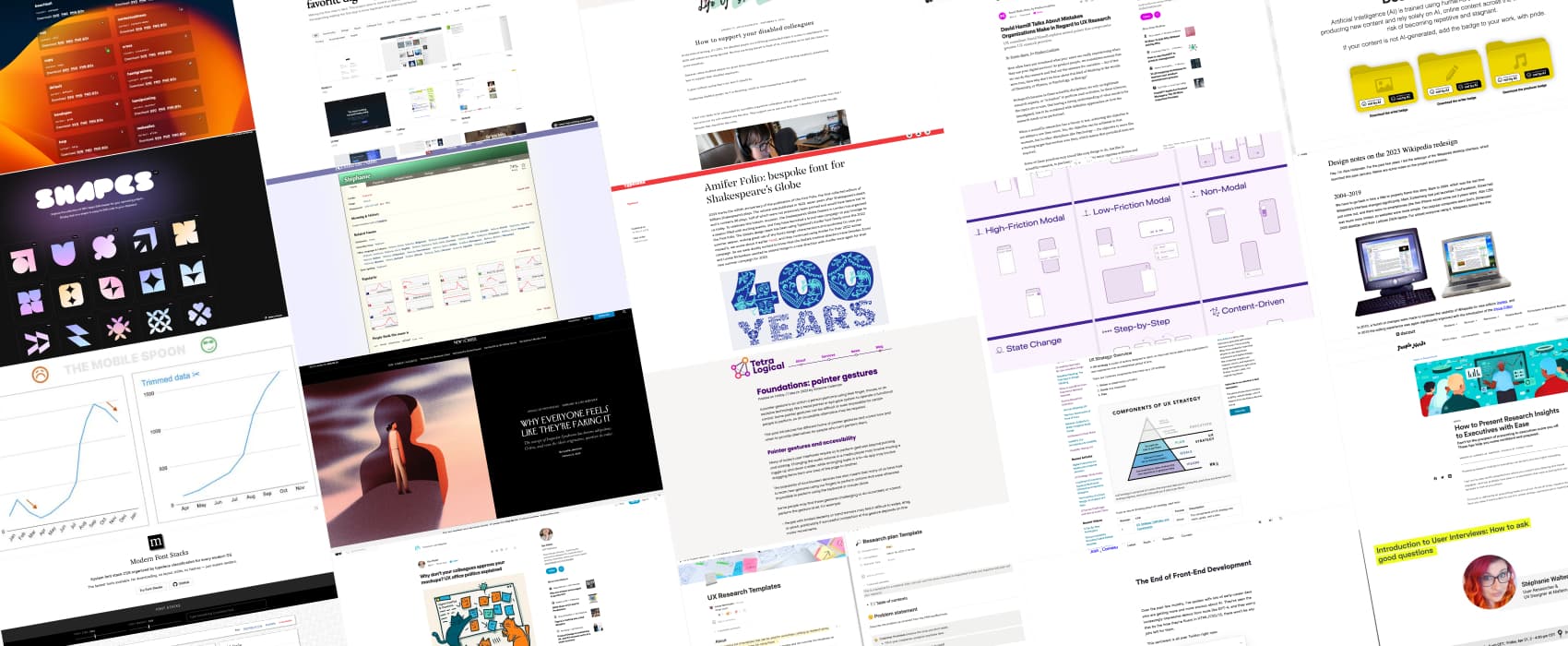 Pixels of the Week – March 26, 2023
Space Monstera, user interview workshop, iOS navigation pattern and UX strategy
On Twitter,  LinkedIn, and Mastodon, I share curated articles I read, resources and tools about UX Design, User Research, UI and mobile design, HTML, CSS, the web industry, some processes, some inspiration, etc. This is an archive of everything I shared this week. And some extra links that I decided to only share for the blog readers. Also, subscribe to the newsletter to get notified when those are published!
Now: what I'm currently up to
User Interviews: a workshop and a small tip

I've partnered up with Condens to bring you a "Introduction to User Interviews" workshop, on April 17th 6:30 pm CET OR on April 21st 2 pm CET. During the workshop, we will use my interview cards to build better interview guides. It's a 2,5 hours workshop, with 2 hours of learning and practice and 30min of Q and A at the end. The number of spots is limited so you need to contact Condens directly. All the information is in the meetup description.
Fun interview tip today: silence is powerful, it gives the participant time to think. But, silence is hard. Humans do not like silence. If you struggle with this, my fun advice: count in your head, the same way you count when lightening strikes: 1 Mississippi, 2 Mississippis… up to 5 Mississippis. Eventually, you will get more comfortable with silence. I made a small visual to illustrate that. For more interview tips, check My expert guide to user interviews.
The space monstera paper plants!

I finished the space monstera paper plant project. You might remember I already had a prototype. This weekend I finished cutting the papers (check the Instagram video). The space paper is from HEMA. I had big plants, but I also decided to cut smaller ones and turned them into earrings. And since I love a good challenge, well, I decided to add iridescent PVC in the middle. I found some 0.7mm sheets and some very slim 0.2mm (the ones used to embellish flower bouquets. Cutting the 0.7m was not easy. I got a 2mm manual blade and found a tutorial where the Alexis explains how to cut shrink plastic with multiple passes at different bland depths.
I ended up with bigger bland depth than her (like 8, 12, 15 and even 18) on the manual blade, but managed to cut the PVC. And, I made earrings with this technique (check the video on Instagram and Twitter). The actual big paper plants use the 0.1mm plastic so it was easier to cut. You can find the final results on Twitter and Instagram.
Interesting frameworks and concepts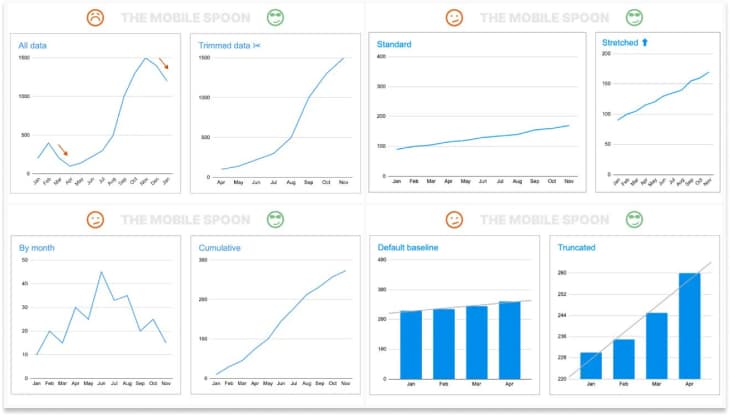 Same data, different stories: How to manipulate the graphs to support your narrative: think critically when you see graphs, don't just check the conclusion, think critically when you see graphs, don't just check the conclusion, ask questions about cohorts, dates, if it was filtered, etc.
TL; DNR: the one you should not miss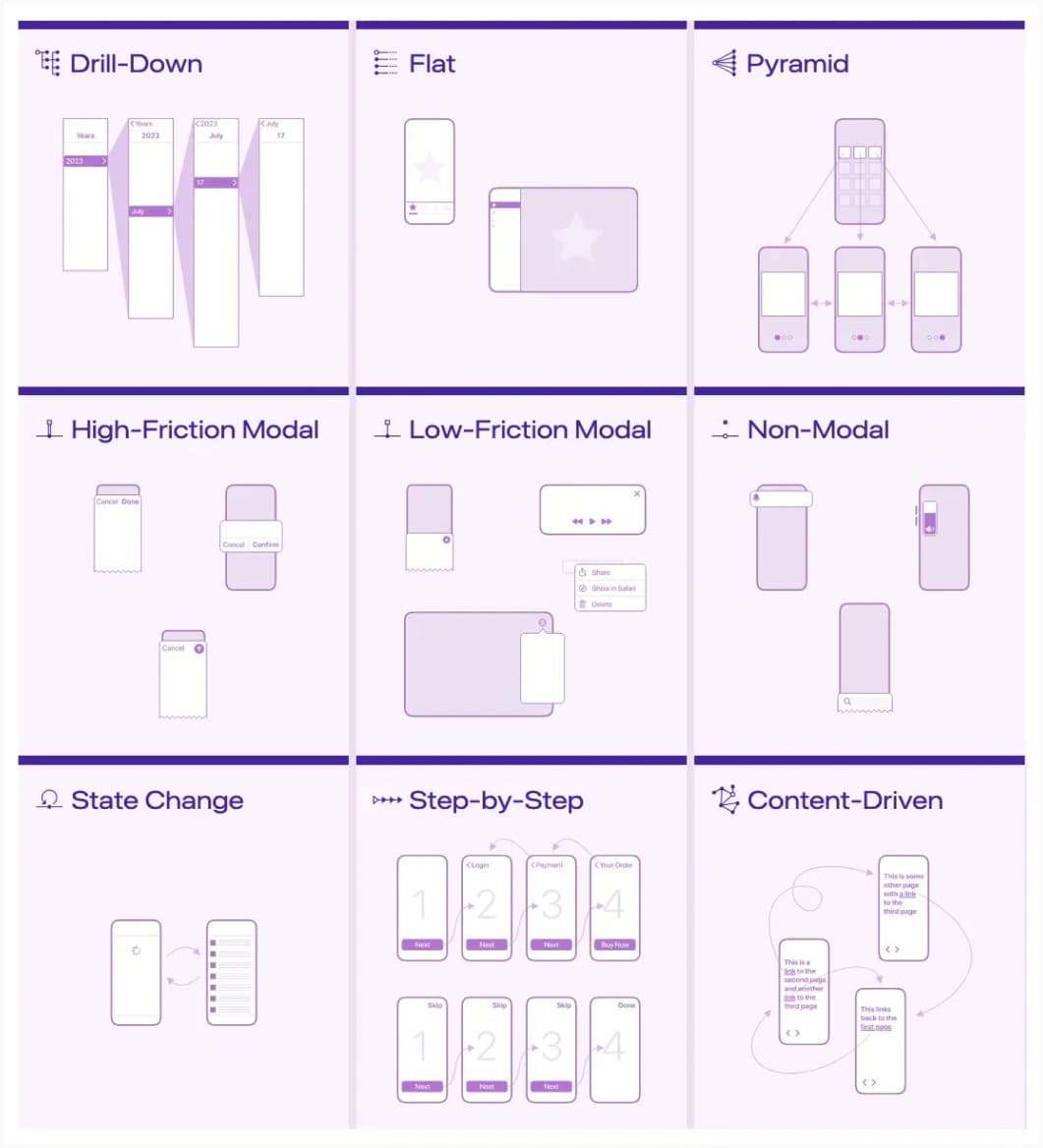 Modern iOS Navigation Patterns: a nice overview of the different way you can structure navigation on iOS, using drill-downs, modals, sequences and more.  
Interesting articles that caught my attention

Some UX design and research, information architecture articles:
A little bit of critical thinking
Some front-end articles:
A little bit of accessibility and inclusive design:
Curiosity cabinet: non-design/tech rabbit holes I enjoyed

Behind the Name, the etymology, and the history of first names. Apparently, mine is considered refined but also strange and nerdy. I'm okay with that.
Inspiration: fun experiments, beautiful art, and great ideas

Useful tools & resources that will save you time

Videos

Neurodiversity in the Workplace part 1 and part 2: 2 amazing talks on how to offer accommodations for neurodivergent folks in your company, why you should do so, what you can gain from it (spoiler: better company for everyone!)
Tutorials

Latest news in the industry